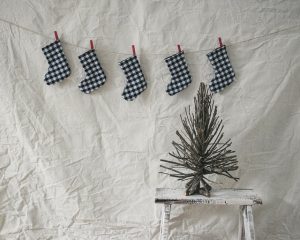 With prices for everything on a seemingly endless spiral upward, you might want to go DIY for holiday decorations this year. Even if you are not an artsy-craftsy type, here are five ways to add a festive look for pennies:
Candy cane garlands: hang a string or ribbon across the wall from which to hang the candy canes.
Gift wrap your door: wrap ribbons (horizontal and vertical) around your front door and add a bow to make it look like a wrapped gift.
Painted pinecones: add a dab of white paint and behold, snow on the pinecones! Alternatively, skip the paint and go natural.
Christmas card tree: tape string on your wall in the shape of a tree (or go abstract!) and hang your cards from it.
Candy jar centerpiece: Fill a candy jar with peppermint candies, pinecones, cranberries (or fake berries), ornaments, or cinnamon sticks.
There are so many creative and cute decorating ideas that are simple and inexpensive. What are a few of yours?
Photo: Pixabay