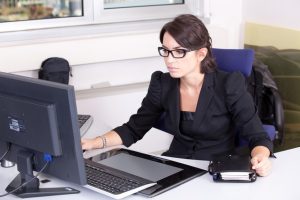 Have you ever wanted to work with a professional organizer to help you get past that overwhelming feeling when you start to tackle your organizing projects?
If so ask yourself the following: Are you someone who…
.. is self-motivated to begin a project once goals and steps are defined?
.. enjoys DIY projects and has the time to set aside to work on them?
.. can physically do the work necessary or has a friend or helper to assist?
.. can use a smart phone/ computer/ camera/ email and feels comfortable using technology (Zoom, FaceTime) to communicate with me?
.. wishes you could work with me but due to schedule or geographic distance prevents us from working together?
If you answered yes to these questions, then you may be a good candidate to working with me virtually.
You may ask yourself how is that possible? I have been organizing clients in person, side by side, since 1997. I have the experience and training that enables me to successfully help you get organized even though I am not there with you.
Using technology, we will discuss what areas in your life you want help to organize and together come up with steps to move you towards that goal. You will be doing the 'heavy lifting' as I will be guiding you through the process. We will have check in appointments to access your progress and to discuss any challenges you may have encountered. We set up tasks that you will accomplish in between those appointments. In the end, you have the organized life you desire!
If that sounds like this is just the missing link you have been searching for, pick up the phone today to schedule an exploratory session to see if we are a good fit. Let's get started!
Virtual Organizing Projects may include:
Home office
Paper Management
Bedroom Closets
Kitchen Pantry
Project Management
Reboot of Previously Organized Space