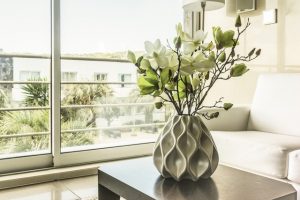 Dawn Link, CPO®, and her company, Resolutions, are the links to your organized future. Dawn knows that getting organized is only half the battle. Since 1997 she has been helping people regain control over their homes and offices. Dawn has learned that the most important step is integrating new routines and systems to make life flow more smoothly. With degrees in Accounting, Business Administration, and a Master's in Printing Technology from Rochester Institute of Technology, such a background provides the perfect foundation for her talent as a professional organizer.
"As a child, I would organize the books in the 'library' my sister would use while she played teacher. I thought I wanted to be a librarian as I loved to put all the books in alphabetical order," Link states. She has always been organized and chose to use her talents to teach others the skills of organization.
In 2007, Dawn earned her Certified Professional Organizer® designation. She was part of the inaugural class of Certified Professional Organizer®. In addition to being a member of the Institute for Challenging Disorganization (formally NSGCD), Dawn has earned certificates of study in ADD issues and Chronic Disorganization.
Originally from Buffalo, NY, Dawn has lived in the Boston area since 1987. After 13 years in the printing industry, with Time Incorporated and Scitex America Corporation, she decided to utilize all her education and work experience to enhance the lives of her clients. Since 1997, her own company, Resolutions, has become her own success. Her unique customized strategies and organizational systems, successful in even the most chaotic environments and for the busiest people, have been featured on local television programs and in area newspapers.