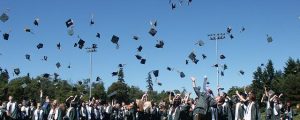 Tis the season of high school graduations. The issue often is, what gift to buy for your favorite graduate? One needs to think beyond the college insignia sweatshirt. We used to depend on the old standbys: Wallets? No, today's grads do not carry cash or credit cards; they likely pay by cell phone. Briefcases? Seriously? Watch? Buy one only if it is an Apple watch. Perhaps a new laptop case instead? Planner/calendars? Well, there is an app for that.
You may consider a personalized item such as a quilt made of old favorite t-shirts. Perhaps a scrapbook or photo album? Having a customized book created using the graduate's name as a character in a classic novel?
What about a jar full of messages from family, friends, and those that matter the most?
This is a list of websites for custom magazine covers featuring your graduate:
For the graduate who is undecided about the future, these sites offer journals and decks of cards that inspire thought, mindfulness, creativity, and conversation:
Lastly, here is one for the graduate destined to shatter the glass ceiling.
I am sure that you may find other unique gifts. My hope is that these ideas will inspire you to find a gift that fits your unique graduate!
Photo: Pixabay