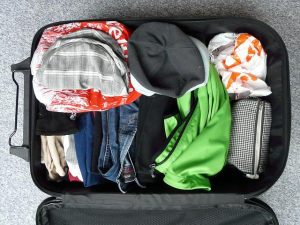 We recently posted some tips about packing for your vacation. Well, here are yet more tips, this time, to help you decide what to pack for a specific trip in that the summer months of travel are upon us.
Yes, as you can imagine, there is an app for help on packing. In fact, there are many, some free and others you can upgrade, paying for a premium version with more features. Here are a few free ones: Packpoint, EasyPack, and Packr. In full disclosure, we have not tried these all for ourselves, therefore, undertake your own search for the apps that best meet your needs.
For Android users, this article lists the best apps for packing.
If you travel frequently, make a "standard trip checklist". In addition to the usual items (personal hygiene products, underwear, shirts, pants/skirts/dresses, travel docs, and phone charger, to name a few), create separate categories (sub lists) of special items to pack for different occasions. For example, you would prepare differently for a business trip (business cards and dress shoes), hiking trip (canteen, bug spray, and extra socks), a wedding (cosmetics, jewelry, and dress/suit), or a beach vacation (swimsuit, sunscreen, and sunglasses). Personally, I even have one for my frequent travel to family as we all live in separate states.
These lists are invaluable especially if you need to pack in a hurry and do not want to forget your basic, day-to-day items. I know a few friends who even keep a toiletry bag packed and ready for any trip to save time when it comes to packing. Why not set one of these up for yourself as you are writing your own lists? You will be so happy the next time you venture from home.
Wherever you decide to journey, at least now you can perhaps more strategically plan what to bring – and what not! – for that trip. Speaking of which, remember that old rule of thumb: take out half of what you pack. You will never wear everything, and you will need to save some room for all those nifty souvenirs.
Bon voyage!
Photo: Pixabay