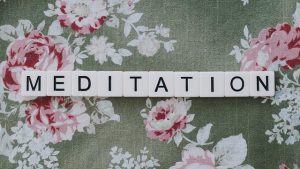 Memorial Day … the unofficial start of summer. A tough academic year is nearly behind students and families, and it is time to "break out those lazy, hazy, crazy days of summer" as the old song lyrics remind us. Vacation planning fever is about to hit, and perhaps the beach is calling for us.
What better time to think about unwinding and centering ourselves? My readers know that I usually blog ways to declutter your home, office, and life, yet this seems like an opportune time to consider a different kind of "cleaning up" entirely.
I am writing now, offering a chance to take time to clear the baffles of one's mind. In fact, do you, yourself, in addition to your home, office, and life, also declutter your brain? Yes, your brain. It may just be the ticket if you have nonstop chatter going on in your head: what you need to do, what you should have said, or what will you make for dinner, among so many other niggling concerns. Does all that annoy you? Make you tense? Well, if so, we all might consider learning new ways to clear it, to turn off, to give our minds a rest from all the strife and stress that our own personal lives, the pandemic, and recent tragic domestic events have exacted on us.
Why not "gift yourself" these days by taking a few minutes each day to calm your brain with meditation and help improve both your physical and mental health?
If you have never meditated before, here are some resources to get started:
Mayo Clinic – Meditation: A Simple, Fast Way to Reduce Stress
Silence Mind – Simple Mediation for Beginners – 3 Most Easy Techniques
Wikihow – How to Meditate for Beginners
YouTube – How to Meditate: 6 Easy Tips for Beginne
Or simply install the Calm app on your phone or tablet
What better way to begin your summer than with a clear, refreshed mind? Start working on it now so that your vacation this year can be spent on pure fun and R and R instead of … well … worrying!
Photo: Pixabay.com