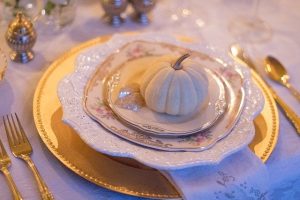 We all love gathering around the dining room table with family and friends to celebrate Thanksgiving together. Did you know that it is truly possible for the host to relax and enjoy the day if these three tips are observed to reduce the stress of hosting Thanksgiving dinner?
Delegate: Have guests bring side dishes. Coordinate so you don't end up with five bowls of mashed potatoes. When invited, most people naturally ask, "What can I bring?" Don't be shy; take them up on it! Tell them what you need from your well-prepared list sitting at the ready. The burden should not fall solely on the host.
Cook ahead: Cook dishes that freeze well (soups, relishes, desserts, or breads) weeks ahead and freeze. Plan to cook only the turkey and any sides that need to be prepared fresh (salads, gravy) on Thanksgiving Day.
Set your table: If the table you will be using for Thanksgiving is not your everyday dinner table, set the table a day or two ahead of time. Pull out the good dinnerware, glassware, napkins, and tablecloth as well as serving pieces and utensils. That gives you time to polish any silver, if necessary, to iron any linens, and to configure the layout of the table. Oh, don't forget to add the extra table leaves first!
Now that all the preparation is done for the big day, sit back and enjoy a nice cup of tea while observing the gorgeous table you have prepared for all.
Photo: Pixabay