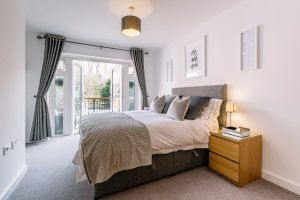 Did you know that our bedrooms should be relaxing places to sleep? It is hard to relax and do so when surrounded by distractions. Here are five ways to declutter your bedroom.
Bedding – Do you make your bed before you leave your house? You might think that is an unnecessary task to do. Take a moment to think about how great it feels to walk into your bedroom and see you bed made? The largest item in most bedrooms is the bed. Having your bed made automatically sets the stage for relaxation. While we are at it, do you have any ripped or stained linens you are still using? Do not feel guilty letting go of them. You can donate to an animal shelter or give to a textile recycler. Ask for new linens as a Christmas gift this year if you are short of gift ideas.
Shoes – Where do you store your shoes? Please tell me they are not just all over your floor waiting for you to trip on. As we in the northeast are facing cooler temps, now is a great time to put away all your summer shoes. Hopefully that will decrease the number of shoes you actively use. A few ways to store shoes are in shoe boxes (either original or purchased shoe boxes), using a shoe shelving unit, or using an over the door shoe pockets. If you must keep any of your shoes out in the open, please makes sure they are organized and out of the main floor space.
Books – How many books do you have on your nightstand? Aim for no more than two books to eliminate the visual clutter. The rest should be in a bookcase.
Laundry – Do you have a laundry basket or any kind of receptacle for your dirty clothes? Half the battle is corralling the clothes rather than throwing them on the floor. There are so many decorative styles of laundry baskets that you can purchase to match your décor. If you have room in your closet, kudos to you as you can hide your laundry and make your room more of a sanctuary.
Jewelry – How do you store your jewelry? Is it scattered all over your nightstand, dresser tops, or any flat surface? Fixing this is one way to quickly tidy your bedroom. If you are a visual person, there are many jewelry organizing solutions that you can either purchase or make to display your treasured pieces. If you would prefer to have them out of sight, there are many jewelry cases or organized solutions for purchase. The key with jewelry is to make sure you put it away after you wear it so piles do not accumulate.
Peek at sites like Pinterest for creative ways to eliminate clutter in your bedroom. When the clutter disappears, you will feel a sense of calmness when you enter your room to go to sleep. Sweet dreams!
Photo: Pixabay