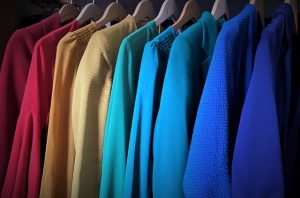 In addition to his athletic prowess, Boston Celtic legend John Havlicek was known for being meticulous. His wife said he hung all his clothes a half inch apart in his closet at home and folded his socks over a hanger.
You do not have to go to those extreme measures for a neat closet. You can quickly make your closet look a lot nicer just by buying a set of matching hangers. Features to look for, depending on your needs, include:
Thickness of each hanger: obviously thicker hangers take up more space
Weight/material: Main options are wood and plastic. Heavy clothing (such as winter coats) needs stronger (wooden) hangers. Nobody should use wire hangers, ever. (Who could ever forget the scene in the movie, "Mommie Dearest", with Faye Dunaway?)
Notches for clothing with straps
Clips for pants or skirts
Swivel hooks
Fabric-lined (velvet, felt) to prevent clothes from slipping
Appearance: a matter of personal taste
Space-saving hangers that accommodate several pairs of pants, shirts, scarves, neckties.
You cannot ask for a simpler, less expensive solution to upgrading your closet than investing in a set of hangers (roughly $25-$50 for 50, depending on, well… features).
Photo: Pixabay