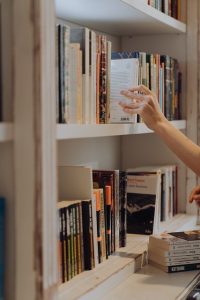 October is National Book Month, so our blogs this month will be about (you guessed it!) books.
Below are five tips for organizing your bookshelves so that you can quickly get your hands on any title you own.
First empty your shelves and declutter. Do you have books you will never read again or refer to? Donate them to your local library or other nonprofit organizations that can resell them.
Separate fiction from nonfiction.
Organize fiction alphabetically by author.
Organize nonfiction by category.
Replace books, starting with the bottom shelf, which should be used for heavier, over-sized books.
To keep your bookshelves organized and uncrowded, weed out your collection as you add a new book. Use the "one in, one out" rule to ensure that you are limiting the number of books you are keeping.
Photo: Pixabay