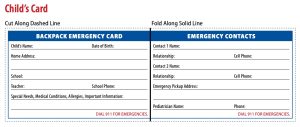 In some areas of the United States children have already begun their new school year. Other areas will be returning soon. Regardless of timing, here are some tips and tools for keeping your children safe and healthy for the coming academic year.
I could reiterate what is already out there, but I found a great website, the CDC (Centers for Disease Control and Prevention). It provides a wealth of resources for parents and educators about health conditions and safety for children of all ages, starting with mom's pregnancy going through age 19. Topics include preparing for back-to-school, safety in the home, information on the ever-changing COVID-19 guidelines, bullying, and so much more. There are also articles about specific conditions, such as ADHD and ASD. The information is presented as podcasts and articles.
Heading back to school is an exciting and sometimes scary time for children. Preparing them and you, as parents, will send them off to, hopefully, have their best school year ever.
Photo: CDC.gov