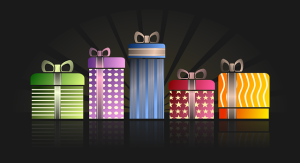 It's not too early to plan for the holidays, especially this year: disruptions in supply chains could mean that items you were hoping to purchase for gifts could be difficult to come by. Even books are affected because of limited supply of paper and because some popular gift books are printed overseas. This includes coffee table books, children's picture books, books with fancy paper or covers—in other words, gift-y books. Supply chain issues across industries are predicted to hamper holiday shopping, so if you usually wait until after Thanksgiving to shop, you might be out of luck.
An early start also lets you take advantage of sales. Try these lists to begin.
Gift list: One of the first lists to create is the gift list. Who will receive gifts? How much do you want to spend on each person? What gift ideas do you have for each recipient? This list can be done using pen to paper, an Excel spreadsheet, or an app. A client of mine uses Giftser for her family. It's easy to use and functions not only for the holidays, but for birthdays, and other special events.
Another app creates a wish list maker for Christmas. In 2020, PC Magazine put together a list of 9 apps to help you organize your holiday gift list which you may find helpful if you want to create your list digitally this year.
Alternatively, you may want to try the family "gift suggestion folder": Each family member has a folder. When someone has an idea for what they'd like as a gift, they should write it on a slip of paper and put it in the folder. Or they can use an ad, rip a page from a catalog, or print a page from a website. Then when it's time to gift that person, others can choose items from the folder. You'll give what the person wants, and chances are they've forgotten what they put in the folder (if you start it early enough) that it'll be a surprise. Even if it's not a surprise, it'll be a gift that won't be returned.
Card list: Decide if you will be using ecards, paper cards, or both. Update your mailing list. If you send printed, personalized cards, plan the family photo, and order the cards. Go to the post office now to buy your holiday stamps before the mad rush begins. Did you know you can order your postal stamps online? The holiday stamps are now available online.
Grocery list: I am sure you have family favorites you enjoy eating over the holidays. After all, a lot of the food is a tradition for your family and what many look forward to eating all year long. Since you know what you will be preparing, you can add a few non-perishable items each week to your grocery list. That way, you are not only done with shopping early for those items, but also not putting a crimp in your budget by having to purchase extra things last minute when you are always stretched to the limit from gift buying.
Well, let the countdown begin… But most importantly, enjoy your friends and family over this holiday season!
Photo: Pixabay