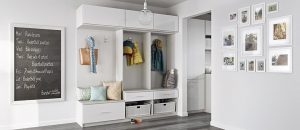 Your keys likely land in a drop zone. Your kids' backpacks have a drop zone. The dog leash…drop zone. How important are drop zones in one's house? I believe they are a necessity.
The most important area in a home that needs a drop zone is where you enter and exit. For some households, that may mean the mud room. For others, it may be the area by their front door. Having dedicated spots near where you enter your home is going to help you keep and stay reasonably organized for success.
The number of people who live in your home will dictate how many people can store their belongings in the drop zone space. If you are fortunate to have a large closet where you enter the home or a large mud room, you won't have to be so limiting in the quantity of shoes or coats that each member of your family can keep in that area. If you are tight on space, then you may only be able to keep a certain number of in-season items per person. The overflow of shoes and coats may have to stay in each person's bedroom or be stored in another closet or location in your house.
If you're planning a drop zone by the entry, there are a few things to ask yourself:
Is there enough space to have dedicated areas for backpacks, briefcases, and purses?
Is this the best spot to hang keys when you get home?
Is there room to keep an electronic charging station so your device is charging overnight and ready for you the next morning?
How best can you configure this space to meet the needs of your family?
Drop zones may also be necessary if you live in a multi-level home. Running up and down the stairs gets old fast! Let's face it, we can be a bit lazy. It's easier to put down items and gather it all at once before heading up the stairs.
One may also decide that having a drop zone in a bedroom or office is necessary. I think your family and habits will dictate if you need this. Not every family has the same needs, but if items are just being dropped in a room, that may be an indication that you need to consider how to best handle this self-proclaimed drop zone.
The best way to know how you need the drop zone to function is to see what lands in this spot!
Do you have drop zones in your home? If so, what rooms?
Image: California Closets