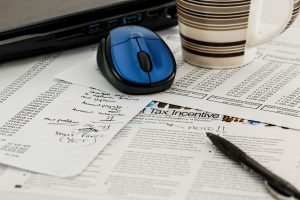 There are many positives about tax day. I've heard of Chipotle giving away free burritos. Free gifts at retailers. Free coffee. Come on, it's pretty awesome…if you've actually filed your taxes. If you haven't, it can feel oh-so overwhelming. It's time to get organized! Now keep in mind: I am a professional organizer, not an accountant. Everyone should check with their own accountant to see what will work for them. I am merely offering some suggestions that may help my clients when working on their taxes.
Below are a few quick tax organization tips (assuming you have at least filed for a tax extension).
Gather Your Tax Documents– The first step is putting a system in place for storing your tax-related documents. Gather your W-2s, 1099s, insurance forms and other items that you have either received in the mail or downloaded. Having these all in one place makes sure you don't overlook one.
Review Last Year's Taxes– Look at your taxes from last year to make sure you don't overlook an important aspect of your taxes. Additionally, make note of what major life changes have happened. Did you have a new child? Did you buy a home? Did you invest money? Everyone's situation is unique and therefore make sure you have what you need.
Make Note of Deductions– You will need receipts, cancelled checks or statements that support what you can deduct. If you are audited, you will need to provide documentation so before you estimate your deductions, back it up by having proof of such deduction. Don't beat yourself up if you can't find what you need. Let it go for this year and make a commitment to yourself to create folders or envelopes to hold the receipts starting now for next year's taxes.
File Online– First, make sure you have at least filed the necessary paperwork for an extension. Secondly, file online! The IRS processes your return faster when you E-file. Bonus: avoid the time it takes to go to the post office and wait in line to mail your return by certified/return receipt mail (and yes, make sure if you do paper returns, that you mail it via certified/return receipt mail to verify you did indeed mail your taxes.)
Once you press submit, and file your taxes, it's time to celebrate. Grab that burrito, sip on your coffee, or simply throw your feet up and relax – the worst part of the year is OVER.
Image:Pixabay