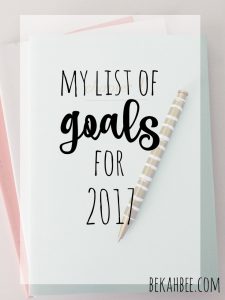 It's August, and the end of summer is approaching! I'm sure your days have been filled with hanging out at the beach, ice cream dates and other fun summer activities. Soak in every last minute!
With the close of summer, the end of the year is on the horizon – and that means it's time to check in on your 2017 goals!
Have you reviewed yours lately? Are you on target or have you forgotten what you set out to do this year? It's not too late to refocus, reboot, and achieve those goals! Here are three tips to help you if you are off track.
Look at your goals each day. Perhaps you had these tucked away in a journal. It's time to bring them out! Put them in a spot you always look at each morning such as the mirror in your bathroom. By doing this, you start the day with these intentions and can adjust your day to make sure your goals are being met.
Schedule time in your calendar. Planning is key. You can't expect your goals to be met if you don't actively plan for them. When someone asks you to do something, look in your calendar to see if you have time. Better yet, ask them if you can get back to them so you have time to think about it. If it fits in with your goals and your schedule, go for it! Don't feel pressured to answer on the spot.
Be realistic. This is the most important of the tips! Since it is August, it is better to readjust your goals to make you feel successful at year-end. You are in charge so don't feel bad or guilty about altering your original goals. After all, a little progress is better than no progress at all!
What advice do you have to help others stay on top of their goals?
Photo: Bekah Bee