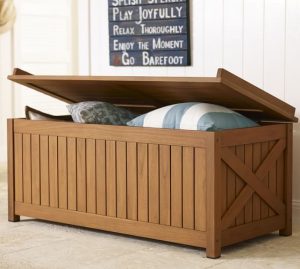 Hello, spring! That's right, the warmer weather is (almost) here. I'm sure the inside of your home is starting to feel clean and organized. Isn't it funny how the weather can send a signal to our brains telling us it's time to get the house in order? Ahh, I just love it. Now, have you looked at your outdoor space? Chances are the outdoor space is ready for a tune up.
In addition to cleaning up the yard and dusting off the outdoor furniture, it's time to think about storage solutions. Outdoor and garden tools can consume a shed or garage if these items don't have a proper home. Below are five outdoor storage solutions to tame your outdoor space.
Storage Benches – Wouldn't it be great to have all your outdoor cushions protected from rain and dirt when not in use? Investing in an outdoor storage bench will prolong the condition of your cushions. You can also invest in additional benches for other outdoor essentials like mosquito repellant, garden tools, and more.
Peg Boards – These are magical storage solutions that use that precious vertical space! Hang up garden tools, or outdoor yard games. If you outline the item on the board, it is so much easier to stay organized after using an item.
Hooks – Install hooks to hang up larger items like shovels, rakes, and even bikes.
Rafter Shelving – If you have high enough ceilings, use the space above to store items off your floor.
Shelving – If you have the space to add shelving, please make sure to make it adjustable. As your needs change, you will be prepared to re-adjust as needed.
As you're organizing in the outdoor air, take the time to soak up the extra vitamin D and fresh air. You deserve it after a long winter!
Photo: Pottery Barn