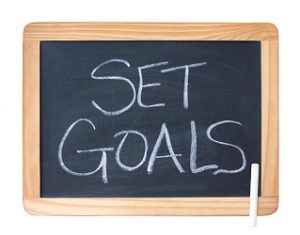 Last month we hit the halfway mark of the year, but who really wants to talk about goals in the middle of summer barbecues and vacation time? Certainly not me! As we edge closer to fall, and smell the start of the school year, we realize how close we are to the end of the year. That means it is time to reevaluate your goals.
Do you still have the list of goals you wanted to accomplish this year? I hope you wrote them down, as research shows that you are more successful achieving your goals if they are written down and viewed daily. Is it time to re-evaluate those goals? Or even make one or two more goals?
If you didn't write down your goals…Don't beat yourself up and write them down now! You still have time to work on goals and still feel a sense of accomplishment as we approach the end of the year. Go grab a piece of paper and pen or use your smart phone to create your list now.
If you already have your list of personal goals…Are you on track or do you need to tweak the goals? If they are too broad, you need to narrow them down to make them achievable. For personal goals like losing weight, write down a specific amount of weight you'd like to lose. It may not happen in the next 6-12 months, but at least you have a number to work towards.
If you have business goals…Are you being specific enough with your goals? For example, stating that it's your goal to get a new job is an undefined goal. What industry do you want to work in? What job title excites you? A better goal might be, "I'd like to work in the biomedical industry as an account executive." Your sub goals could then be to spend X hours per month networking with people that are in that field or are connected to that industry. See how that goal is now more defined?
I made a goal for this year to eat better lunches. That was my broad goal. To narrow it down, I make sure I bring my packed lunch as many days in the week as I can. If I can't bring a lunch, I make sure that wherever I go, it is not a fast food location. I aim for salads and fresh food. I feel better and have managed to drop some weight. Yeah! It's a small goal that has yielded big results. Now, if you'll excuse me, I am off to make my lunch for tomorrow.
Photo: Motivational Memo