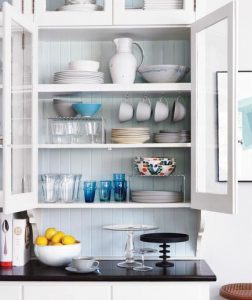 The kids are out of school, and they have invaded all parts of the home, including the kitchen. In the summer, the kitchen can bring in a bunch of clutter with kids' summer activities, snacks and meals around the kitchen, and a disorganized fridge. It's time to take it back!
It's time to get back to basics in the kitchen. After all, the kitchen is the hub of your home. During the summer, this can be a bit challenging since we all tend to have a "lazier" attitude when it comes to decluttering and organizing. (I know I feel this way!). Take back control of your kitchen with these easy steps!
– Clear the Counters – Take a look around your countertop space. Are there extra appliances that are rarely used? If so, now is a great time to find a better spot for them. If they are rarely used, place them in the lower cabinets, or in the pantry.
– Evaluate the Oils and Spices – Sometimes these cooking ingredients have accumulated on or near your stove. It's easy for this to happen, especially if you cook often. Take ½ hour to wipe them down and return them to their proper storage spaces.
– Remove Mail and Paperwork – This happens all too often. Kids' artwork crowds the counter. Mail is stacked on the island. Clutter, clutter, clutter. Gather that pile of papers, and go through it to see what is relevant. If needed, file the paperwork, or act on the action item.
– Tame your Refrigerator – Last, but not least, what is going on in your refrigerator? Make sure you don't have science projects lurking in there. Wouldn't it be a great time to take items out and wash down the shelves and get rid of anything that has expired? Also, we tend to accumulate more condiments during BBQ season, so be sure to ditch the old yellow mustard that has been hanging out in the fridge for a couple years.
As you go through this process, show the kids what you're doing so they can help keep the space organized! Show them where to place their artwork, how to put away snacks and lunch food, and where to put their toys and other items! Before you know it you will have taken back control of the clutter and restored your kitchen to an inviting, calm area for you and your family. Now, doesn't that feel good?
Photo: Real Simple