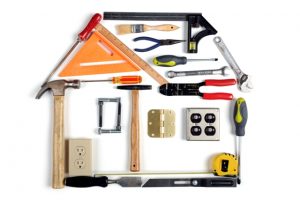 The summertime generally means many home improvement projects. From the outdoor space, to the indoors, there is always a never-ending list of to-dos. If you're doing the projects yourself, big box stores like Home Depot and Lowe's have knowledgeable professionals who can help you along the way. But sometimes there is that project that needs professional attention. Time to hire a contractor. Below are five tips for managing your home improvement project.
Create a Budget – I'm always preaching about budgets, and it's no different for your home improvement project. Have a budget in mind before you even start talking to contractors and architects. This will help with the planning phase. Sometimes if a project is too costly, you can break it up into phases. For example, if you are redoing the master bedroom and bathroom, it might be a wise decision to do one in the springtime, and one in the fall.
Find a Reputable Contractor – Do your research before you hire your contractor. Word of mouth referrals are always the way to go, so ask friends and neighbors who they've used and their experience with the process. Be sure to interview three to five contractors before hiring.
Over-communicate – This is with written and verbal communication. Make sure everything you've agreed to is in writing in the form of an agreement that both parties sign. This should include pricing, as well as the exact details of the project. During the project, don't be scared to speak up if you see something you don't like. For example, if your contractor promised you one color of hardwood, and he started installing something slightly off, be sure to vocalize this. You don't want to get through the install to realize he installed the wrong color!
Receive a Timeline – Be sure you agree to a schedule before the work starts. It is likely that the project will run over by a day or two, but that is normal. The contractor's schedule will also help you plan around your work and home life.
Hold onto the Final Payment – Wait to make the final payment until you've had a chance to walk through the room with the contractor. You want to make sure the contractor has finished everything before delivering payment. If you pay it all before the list is complete, you may have a lot of trouble getting the final touches done.
If this is your first time hiring a contractor, this process can be a bit intimidating. The best advice is to do your research, and be assertive throughout the process! Give the contractor the space and respect to do their job, but remember that it's your home and you need to ensure the job is being done properly!
Photo: Red Fin