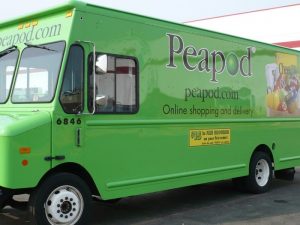 There are two camps when it comes to grocery shopping – those who absolutely love it, and those who adamantly hate it. For those who would prefer that they never have to walk through the frozen food section again, this article is for you. Today's focus is on grocery delivery services – is it a do or don't?
In the greater Boston area, we have access to a number of different grocery delivery services. This is a great idea for busy people, working moms, shut ins, people without a car, and those who do not like to grocery shop. The idea is simple: order online, and services like Peapod deliver your groceries right to your door. In addition to avoiding the grocery store all together, you will never fall victim to cravings as you walk down the aisle, and you will stick to your list! You will also save a lot of time shopping, waiting in the checkout lane, loading, and unloading your vehicle.
There are a few cons to think about. If you are really picky about brands, or if you like to selectively pick out your produce or meat, this might not be the best option for you. For example, we all have particular needs for produce. Do you want a ripe avocado for your meal tomorrow night, or an avocado a few days from now? With this service, you are at the mercy of the person shopping for you. If that isn't an issue, great! I know a few people who use the service just for bulky items and staples but they shop for their own meat and produce.
All in all, I do think it is a fantastic option available when you just can't get to a grocery store. I recently met a new mom, who works 40+ hours a week, who only has her groceries delivered. She said it's a lifesaver!
I personally have not used this service, but I could see myself needing it if I was ever injured, or my schedule was unmanageable. I may be one of the odd ones, but I do love to grocery shop. I shop with a list (surprise, surprise!), which helps eliminate excess purchases. And I simply enjoy being in the store – it's therapeutic in a way! What camp are you in when it comes to grocery delivery services?
Photo: patch.com