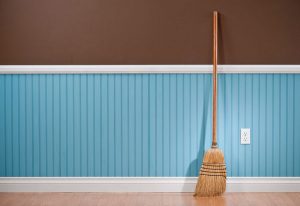 We've almost made it to those warm summer days. The garden is calling for attention. The deck is needing a few touchups for those fun outdoor dinners. Before you throw yourself into your outdoor space, do yourself a favor and finish cleaning and organizing your indoors. Specifically, tackle that one or two rooms you just can't seem to declutter. To help you accomplish this, I want to issue a 3-week spring-cleaning challenge. After completing these tasks each week, you can feel good about giving the outdoor space much-need attention.
Week of April 4 – If you've been reading my blog, you'd know I'm a big fan of purging. If you're staring at a room full of stuff on the floor, the first step is to find the floor. Start in one corner of the room and work your way around, removing any item that doesn't belong in this room. If you have no use for the item, donate it. If you use the item, put it away in its proper 'home'. This can take a while, and sometimes it can be hard to decide if you want to keep something, or donate it. Work as slow as you need to this week to clear the clutter! A little bit of progress each day will help accomplish your goal.
Week of April 11 – Once the surfaces are clear of clutter, it's time to dust and polish. Get into the nooks and crannies that you may not tackle on a regular cleaning session. Wipe down the walls, tops and bottoms of furniture, and go underneath the bottom of all free standing fixtures.
Week of April 18 – After general cleaning is completed, it's time for the once a year deep clean. Windows need to be cleaned at least once a year. It's also a great time to bring out the paint, and touch up the walls. Vacuuming furniture and carpet shampooing are all great ways to really start the spring fresh.
Setting smaller goals each week will help you check off your larger goal of 'spring cleaning the home'. Remember, realistic goals and expectations can yield a happier you and healthier home.
Photo: oprah.com