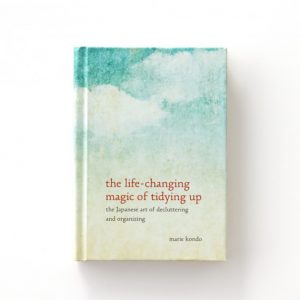 There's an organization book taking the world – yes, the entire world! – by storm. The best-selling organization book, The Life-Changing Magic of Tidying Up: The Japanese Art of Decluttering and Organizing by Marie Kondo, is bringing the field of organizing to another level. For that, I am truly thrilled.
Marie Kondo believes that you should only keep items in the home that "spark joy". This is a philosophy that many organizers share, myself included, and I'm oh-so grateful she is spreading this message to the world. While I don't use the phrase "spark joy", I believe in overall happiness. If you have an item in your home, it needs to make you happy. You need to love it, it needs to fit or work, and it shouldn't make you feel guilty.
The KonMari Method is taking storm as it advocates decluttering, not room by room, but rather category by category. This is a concept that many organizers use and it is not anything new. I am glad that the media is excited about organization, but remember this shouldn't be a trend. This should be a lifestyle change, and we need to adapt to methods that work for us.
Organizing is a very personal process and therefore needs to be adaptable. Marie Kondo lists the order in which to 'tidy' your life. First up, clothing. For some people this is not the easiest area to start. She takes the 'my way or the highway approach' and this isn't my philosophy when working with clients. There needs to be flexibility. Being organized is defined in many different ways for my clients, and the organization method needs to fit into their comfort level.
I am happy for Marie Kondo and her success. I am grateful that this is getting people to talk and think about organizing. I do wonder how many copies I will find next to the other organizing books my clients have purchased. Take the good parts of the book that resonate with you and be flexible in making sure your home and life are as organized as you want them to be. You are in charge.
Photo: MarthaStewart.com / Mike Krautter