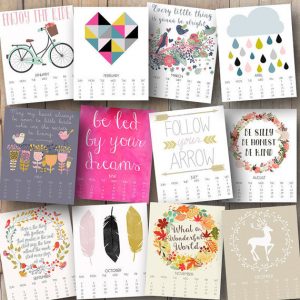 Out with the old, in with the new, right? I'm sure you've heard this phrase thrown around this month. After all, this month is all about what we can do to refresh every compartment of our lives. There is certainly a bit of truth to this phrase, and as you should know by now, I'm a big believer in the almighty PURGE! The start of the year is an oh-so important time to kick the extra stuff to the curb, so let's continue in our series of items to purge. Below are three things you should get rid of NOW!
Calendars – There is no sense in keeping old paper calendars around. If you used a paper calendar for 2015, make sure you recycle it. If you're the type to make important notes in your calendars, make sure to transition these notes elsewhere. You don't want to forget those birthdays you wrote down! The only reason you should keep your calendar is if is rolls over into 2016.
Mismatched gloves – Winter brings about a slew of singled out gloves. It's a time when beautiful pairs of gloves separate, and go about their own ways. It is maddening to try to leave the house in the winter when you try to grab a pair of gloves and all you have is one glove of the set! Stop making yourself late and crazy once and for all and take 5 minutes and match up the gloves. Toss the ones that do not have a mate in a basket in case it does appear or be bold and toss the unmatched gloves.
Holiday decorations – It has been a month since the holidays, and Valentine's Day is just over two weeks away! Look around your house and make sure all the decorations have been taken down. Did you take down the lights on the porch? Is the jar filled with holiday candy cleaned out and tucked away? After you make sure the holidays are stored away for next December, go ahead and start decorating for Valentine's Day. In my opinion, it's fun to be festive all year long!
Next month our Purge! blog post with focus on how to organize – and toss – old keepsakes. If you have an old shoebox filled with love letters from an ex-boyfriend – and you're now married to someone else – perhaps this one is for you!
Photo: Etsy