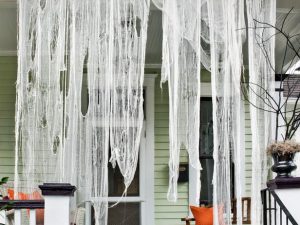 My chosen career as a professional organizer is a niche. I get it. I'm one of those rare individuals who have a passion for turning clutter into clean. And nasty into neat. This is spooky enough, isn't it? As we get ready to celebrate Halloween tomorrow, I thought it would be fun to share some other rather "spooky" realizations about myself. I laugh looking at the absurdity of how true these really are, and hopefully they give you a good laugh!
I love paperwork. Yes, it's true. I realize we are all living in a world of less paper, but I still have a passion for the working with paper (my own and clients'). There's something so fulfilling about organizing these tangible pieces.
I'm a Teacher. At one point in my life I was considering a career change to become a teacher. Little did I know that my love of organizing and working with people in this field would combine those skills. It is so much fun watching clients have an ah-ha moment.
My favorite tool is the label maker. I couldn't live without one. How wonderful is it to look in your file cabinet or pantry and see consistent labels? They are clean looking and so easy to read. As we age, why strain our eyes?
Organizing when shopping. I have been known to reorganize, straighten up, or put "like with like" when shopping. It makes me crazy to try to find something I want in my cart when the items are in a chaotic mess. It's strange, but I can't help myself!
Comments from friends and family. I can't tell you how many times my friends and family members have started a sentence with, "You would be so proud of me…" and proceed to tell me an organizing project that they accomplished. I'm happy to inspire them to lead a more organized life, and of course, I am always so happy to hear about their successes!
Stay tuned for November's blog post as we turn the page from fall and start discussing wintertime and the holiday season. There's a lot to discuss, so be sure to come back!
Photo: CBShome.com