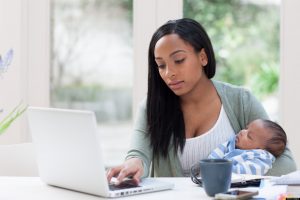 A mom's work is never done. Whether you are a mom that works out of the home, or a mother who heads to the office during the day, all women, when you become a mom, are working moms. You wear many hats, and there are many schedules and to-dos to juggle. While the proverbial plate is always full, organization can take a boatload of stress out of your life. Here are some organizing tips for working moms that can help out.
Set realistic expectations. This is important. Sometimes we pile on too much work, fall short, and then start to feel guilty or angry at the situation. Be realistic about what you're able to take on. Unless you want to spend all day Saturday or Sunday cleaning your home, enlist the help of family members. Or, if budget permits, have a cleaning company/person come to the house once a month to do a thorough cleaning.
Use the 'fringe hours'. There's a new book, The Fringe Hours, that shares great advice on using time before and at the end of the day to get work done. If you can get up at least an hour earlier before your children, you can focus on getting yourself ready first and then focus on your children. Remember what they say on the airplane, put your mask on first and then others.
Plan meals. Again, planning is king! I know this sounds a bit old-fashioned, but if you have your meals planned out, your trips to the grocery store go smoothly, you can set daily meal expectations with your family, and there is no more resorting to take out meals.
Cut the clutter. Are you surprised this is a tip? Of course not! The less clutter you have on your kitchen counters and throughout your home, the easier it will be to do cleaning and have company over without spending hours preparing for their visit. Maintenance can save time and prevent stressful situations.
Take a girl's night out. Taking time for yourself is important, and it's crucial to hit the 'reset' button when you're running on fumes. You need to recharge your batteries, so be sure to share responsibilities with your significant other and have him take care of the kids one night. Friends help reduce stress and having time for girl talk will do wonders for you (and your family).
Photo: Women's iLab