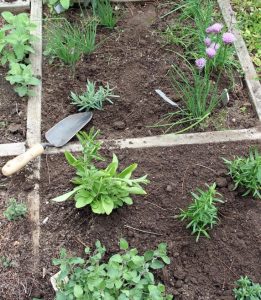 July is the heart of gardening season in New England. The tomatoes are starting to fruit, cucumbers are getting larger by the minute, and the squash is reproducing like crazy. It's certainly wonderful to grow and harvest your own fruits and veggies, but sometimes gardening can wreak havoc on the shed, basement, or garage. Gardening tools are in five different locations, gardening soil is everywhere, and the pots are stacked high. It's time to get your garden space organized! Here are five tips to help you on your way to a more organized gardening space.
Set aside a designated space – Give your gardening supplies one central hub. Devote an area in your garage, shed, or basement to house all your gardening supplies & tools. The great thing is you don't have to set aside a large chunk of real estate. It can be a small nook or small table that is just for your gardening needs.
Use vertical space – Pegboard or lattice are great options when looking to maximize vertical space. Hang tools, or even small shelves to place small pots.
Create a worktable – Sometimes the best worktables are the most inexpensive. Use adjustable sawhorses and a precut Formica countertop instead of purchasing a more expensive unit.
Put together a portable tote – To save time, create a tote bag or another mobile solution to house gardening supplies. If you have a small garden, you can use a reusable grocery bag. For larger projects, you can repurpose a child's wagon, a bucket, or wheel barrel.
Keep it clean – One of the messiest parts of gardening is the potting soil. If you're not careful, the soil can get everywhere. By keeping your potting soil in a plastic container, you can keep your gardening area clean, and even use the spillover soil!
Photos: Gardenista