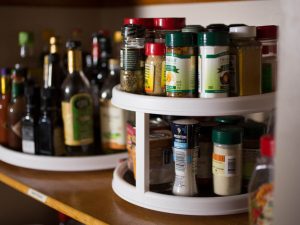 It always amazes me how everyday household items can start to pile up. It's like a weed that has multiplied throughout the yard! That's why it's important to take the time to – you guessed it – purge! This is the first post of a new series designed to help you purge unnecessary "stuff" that is either outdated, expired, or simply not of use.
Here's how it works: I'll give you three items that you should kick to the curb to create more space, and less clutter, around the home. Sounds great, right? RIGHT! Let's get started. This month, the three items you MUST purge are: Nail polish, spices and bills!
Nail Polish – Once you open a bottle of nail polish, it's good for two years. After a while, you'll notice that the nail polish starts to change color, thicken and separate. If you see a bottle that looks unusable, toss it! Also, if there is a color that was once trendy, but now in question, it might be best to say goodbye. Be realistic of how many bottles you are actively using, and get rid of the rest. You'll find that your bathroom drawer or cosmetic bin will have a lot more space!
Spices and Herbs – These technically don't expire, however, the potency and flavor are affected as time goes on. According to McCormick, shelf life varies by type of herb or spice. The company states to use spices and herbs by the "best by" dates, and if that isn't listed, use their general shelf life chart as a reference. Once you purge all of your old spices and herbs, you'll make room for new delicious flavors.
Paper and Electronic Bills – Of course, you must pay your bills! However, how long do you need to keep your paid bills? Well, it depends. If any bill you are paying is then used as a tax deduction, it needs to be kept for as long as your accountant tells you to keep your taxes. Some people like to keep bills for a calendar year and then when January rolls around, they will purge their files and start new. Some don't keep any at all. It really is all about your comfort level. The important thing to take away is that you can clear anything you deem old from your files, so you can make space for present day bills.
As an overall tip, if you are concerned about how long you have had an item, start putting a date on the bottom of the nail polish, spice, or any other item that doesn't have a "best by" date for you to use as a guide.
Photo: Serious Eats