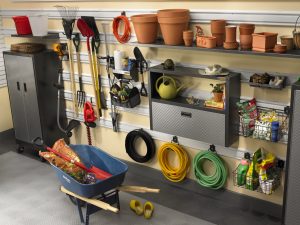 If organized correctly, the garage can be a haven for everything that doesn't have a place in the house AND your vehicles. But most of the time what happens is the "stuff" from the home, builds, and builds, and builds…ultimately taking over any free space, and pushing the car to the curb.
If your car is parked in the driveway, perhaps it's time to overhaul your garage and restore order with the following tips below:
Set aside time – It's important to make time for garage organization, or hire a professional organizer to help out with this task. A weekend is typically enough time for me to come to your house, develop a plan of attack, and conquer the clutter.
Set up zones and categories – Look around to see what should be grouped where. Typical zones include gardening, sports and recreational gear, tools, additional pantry space, trash/recycling, and seasonal décor. Once you've nailed done the necessary categories, look at the items that don't fall into these categories – like paint and luggage – and determine if there's another space in the home where these items can go.
Purge and donate – This is often a sensitive task for people because if an item has ended up in the garage, it's likely the homeowner isn't ready to part ways. I typically work with homeowners to help them decide what's trash and what is a treasure. Sometimes this can be challenging, but the reality is you can't invent space – something has to give!
Think about the overall design and layout – Your design will depend on your lifestyle. If you are an avid gardener, then this zone should be easily accessible and take up a larger chunk of the space. If you have kids involved in five different sports teams, then each piece of equipment should be readily available and easy to access for the little ones.
Determine storage solutions – Purchasing storage and cabinets should be decided AFTER you've created the floor plan. Leveraging vertical space is key in order to maximize available storage area. Peg boards can work wonders with hanging up gardening tools and sporting equipment. Also think about using the overhead space to hang bikes and other items that are taking up real estate on the ground. I have also found that rubber floor tiles can be a great addition if you're planning on creating "livable" space within the garage. A great example of this is creating a crafting station for your kids, or a planting area for gardeners.
After your garage revamp is complete, it's not over! The last, but oh-so important tip is to make sure you're creating a monthly garage cleaning and purging so you can stay on top of clutter.
Photo: Décor Draw