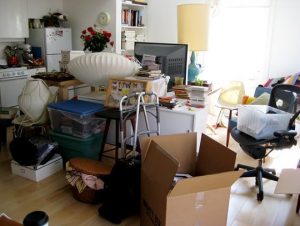 I've now walked you through the first two parts of staying organized during a move – planning and packing! – and now the real fun begins – unpacking. And I really mean this. This is the time where you can get settled and really take a deep breath and relish in the happiness of a new home. Before you start cutting open those boxes, keep these moving tips in mind.
Cleaning is always a good idea— Most homes you move into will only have been broom swept, which means there is likely a lot of cleaning to do. It's always smart to schedule a cleaner to arrive before the boxes do, that way you don't have to worry about cleaning after the fact.
Set up your beds – Sleep is oh-so important after working your tail off moving for the last few days (and technically, weeks, if you've been properly planning!). Bedrooms are quick to pull together, and you'll be so excited to get proper rest on a familiar and comforting bed.
Give the kitchen priority – Like sleeping, eating is a priority.  If you've done a good job organizing and labeling your boxes, it should be fairly easy to decide what box needs to be placed where. I also like to think of the sink as the main "hub" and the stove is second on the list of most-used kitchen spaces, so it's key to unpack keeping this in mind. For the items that you use every day, place them in the most accessible spaces. Utensils and cutlery will always be used, so placing these items by the sink is a good idea.
Bring home the bathroom – The bathroom is one of the most straight-forward rooms to set up and you'll feel an instant sense of calm when you get yourself settled in this space. Put up a shower curtain, hang your towels and unload your grooming essentials.
Think basement for any overflow – If you've planned and purged correctly (reference the first part of this series if you missed it!), you shouldn't have anything substantial to store. However, if you do, take advantage of your basement. Anything you'd like to put down in your basement, store in those large plastic storage containers, to ensure the contents won't get musty. Also, use shelving to maximize your storage space. I always like to use large resin shelving because it's so easy to assemble, and you'll be up-and-running in no time.
That wraps it up on my 'Movin' on out' series on organization tips for moving – if you have any questions, comment below and I'd love to help! Tune back in the coming weeks as I talk about garage organization!
Photo: Apartment Therapy