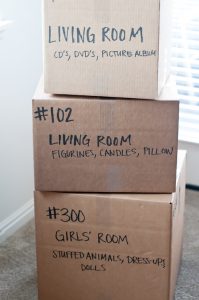 Welcome back to our series on planning and packing for a move! In the first part of this series I discussed planning – which is equally as important as the actual execution – but now I'm moving on (pun intended) to the good stuff – packing up your home. As a professional organizer in Boston, I've discovered some key moving tips to keep in mind while getting all of your belongings out of your home, and into a moving truck. It may seem like a daunting task, but if you follow the five packing tips below, you'll be in great shape.
Pack by room – Life becomes significantly easier when you pack by room. By doing this, you'll keep all similar items organized together and ultimately make unpacking more manageable. The last thing you want to do in your new home is run around the house, scratching your head, saying, "Now what did I do with that lamp?"
Learn love labeling – This is another tip that will keep you sane through the moving process. Every box needs a label. There's no way around it. On each label, you should note the room, general contents, and assign a box number to make tracking all boxes a bit easier. I also like to include a color key for each room, so that it's easier for the movers to easily note what goes where. I discovered this free download for moving labels from MarthaStewart.com that you can print out on any standard adhesive paper and use for your move.
Keep your boxes organized with a grid – Use a simple word document or excel sheet to keep track of all of your boxes. I generally write out each room, and underneath include the box number and the general contents in each. This is where I also include the color key.
Find the right boxes – There is a wide world of boxes, and it's important you find the right boxes to make your packing a bit easier. In addition to square or rectangle boxes, you can also find specific boxes for picture frames, hanging clothing, glassware, TVs, lamps and more. If you want to save money, I'd recommend looking on Craigslist for used moving boxes from someone who just unpacked and moved into their new home. You can also find great boxes behind grocery stores, and sometimes liquor stores will have odd-shaped boxes with built in dividers for vases and glassware. Keep in mind that not all things need boxes. For instance, folding clothes can remain in the dressers, but be sure the drawers are restrained with tape to ensure drawers don't fall out.
Think about what you'll need when you arrive – You should always pack an "open first" box. This will contain necessities like toilet paper, trash bags, power strips, tools, box cutters, and medication. For this box, I always like to use a clear bin versus a brown box so it's distinctive and easier to see among the sea of brown. Additionally, if you're traveling across the country, be sure to pack enough clothing and essentials for two to three days. If your moving truck gets delayed because of weather, you never want to be without the essentials.
After you're done packing…it's time for the BIG MOVE. Tune in next week as I share tips to the art of unpacking and moving into your new home.
Photo: Design Mom