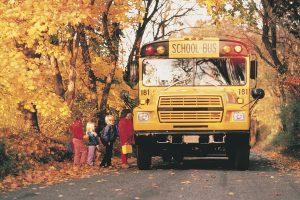 Summer is nearly over for New England moms and their kids – where does the time go?! It's a bittersweet time for families – parents will gain a bit more free time, but of course miss seeing their kids throughout the day. While there will be many emotions when the first day of school hits, one thing is for sure – it's best to get physically and mentally organized so the process is as smooth as possible. In my world, the more organized you can be, the less drained (and frantic!) you'll feel at the end of the day, week or even month! Here are five back to school organization tips to keep in mind as you send your kids back to school:
1)     Plan out your finances – The first step for preparing for back to school is always taking a look at your finances to determine what should be the proper budget. According to the National Retail Federation's annual survey, total spending on back-to-school items is expected to reach $74.9 billion and the average family with children enrolled in grades kindergarten through high school will spend $669.28. That's right, nearly $700. So how do you allocate funds? Think about all of the spending categories – clothing, school supplies, sports fees, physicals, etc. Asses each kid's needs – prioritizing important costs over the more trivial costs – and from there start to piece your budget together. It's also smart to keep some money in your back-to-school budget for unexpected costs in the fall – another jacket, an unexpected team sport fee, etc.
2)     Assess your needs – Don't go into back to school season blindly! Take the time in advance to see what clothes you need to purchase, and what is on each kid's classroom supply list. For clothing, go through drawers and remove anything that doesn't fit or is worn out, and donate these to local non-profit organizations or friends and family. Also, take time with each kid to make note what clothing is stored where, so there is no confusion during morning prep. After you've purged, and made space, create a wardrobe list, while keeping the budget in mind! For school supplies, make sure you're getting a list from each teacher of what each kid needs. Walking through the back to school section of your local Target with your kids – and no list – is a surefire way to spend WAY too much money, and wind up with a whole bunch of stuff you don't need, and only a few items on your actual list.
3)     Create a Family Calendar – The start of school means the start of pick ups/drop offs, sports, dance class, and more. And with multiple kids' schedules mixed in with yours, you can only expect for life to get a bit crazy. That's why it's especially important to create one universal family calendar. This can include school functions, deadlines, and even lunch menus. Putting everything on paper – or in a Google shared calendar – can truly make your world a better place.
4)     Bring current rooms to order – There's something to be said for the saying, "Start with a clean slate." The last thing you want to do, is start with a dirty, cluttered room, because likely after the first day of school, your kids will bring home loads of new books, papers, and of course, throw their clothes and backpacks around their rooms. A big part of organizing your kids' rooms – or even the mud room – is creating a space for backpacks, shoes and other items being used on a daily basis. This will ensure everything has a home, and set the expectations of what goes where with your kids.
5)     Create a work station for homework and meetings – When the school year begins, it always seems that the dining room table starts piling up with school books, papers and pencils – and other clutter. With no clear work station, this can lead to disarray around the house. Whether it's a little nook in the hallway, a carved out space in the garage, or a space in each kid's bedroom, creating a designated work station can lead to a clearer, more organized home. And ultimately a more productive child!
Photo: Discovery