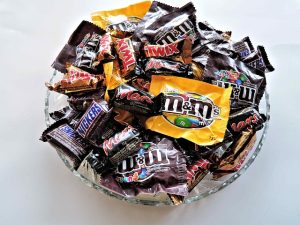 If you have leftover Halloween candy and are looking for creative ways to use or get rid of it, here are some ideas:
Donate: Consider donating the candy to local shelters, food banks, or organizations that support troops overseas. Many places accept candy donations to bring a little sweetness to those in need. Your local senior center might put out a bowl of candy at the reception desk or around the facility.
Freeze for Baking: Chop up the candy and freeze it to use in future baking projects. Add candy pieces to cookies, brownies, or even homemade ice cream.
Decorate Baked Goods: Use the candy to decorate cakes, cupcakes, or other baked goods. It can add a colorful and festive touch to your desserts.
Make Trail Mix: Create a trail mix by combining leftover candy with nuts, dried fruits, and pretzels. It is a sweet and salty snack that can be enjoyed on the go.
Save For Gifts and Party Favors: Save the candy for upcoming birthdays, holiday parties, or other events where you can use it as party favors or small gifts.
Use For Educational Activities: Use the candy for educational purposes. You can use it for counting, sorting, or even science experiments with kids.
Melt and Dip: Melt down chocolate-based candies to use as dipping sauces for fruits like strawberries or pretzels. You can also use them to create chocolate-covered treats.
Break Up For Ice Cream Toppings: Crush or chop the candy and use it as a topping for ice cream sundaes.
Use For Charitable Fundraisers: If you are involved in a charity event or fundraiser, you could use the candy as prizes or giveaways.
Regift or Share: If you have friends, family, or coworkers who would appreciate the candy, consider sharing it with them.
Utilize For Craft Projects: Get creative and use the candy for craft projects. Create candy-themed artwork, ornaments, or decorations.
Trade or Swap: Organize a candy trade or swap with friends or neighbors who might have different types of leftover candy.
Use For Cooking Ingredients: Incorporate small candy pieces into your cooking. For example, you can use them as a surprise ingredient in pancakes or muffins.
Save for Next Year: Some candies have a long shelf life. You can save them to give out next Halloween or use them for decorations.
Take to Office: Bring the candy to your workplace to share with coworkers or leave it in a common area as a treat for everyone.
When Halloween is over, make a note of how much you purchased and have left over so that next year you will not over purchase and have to deal with leftover candy again.
Photo: Pixabay