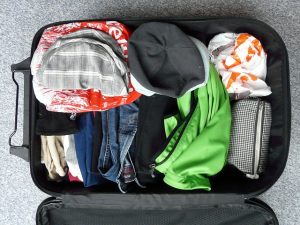 I recently traveled out of state to Oregon to attend my niece's wedding. I stayed in a hotel with my sister, and we both realized items that the other included in her luggage that really came in handy. Pack these items just in case you, yourself, should need them in your travels.
Sealed Plastic Bags – Grab a few snack, sandwich, quart, and gallon size bags. You never know when you will need them, and they take up little space. My smart sister had these with her, and we used them to keep snacks away from pesky ants in our room, to create a makeshift ice wrap, and to prevent any spills in our sightseeing bag when we brought yogurt to have as a snack.
Mesh Laundry Bag – We were gone for seven nights and knew we were going to do laundry at least once while away. I find it easier to throw my dirty clothes in a laundry bag, so it is easier to grab to do laundry. What's more, separating them from my clean clothes when packing up my suitcase at the end of a trip allows for merely emptying the laundry bag contents into my hamper upon returning home.
Soap – I attended my annual organizing conference in April and was shocked that the hotel had run out of soap! I used to travel with a small bar of soap and a small bottle of body wash but stopped doing so years ago when I never used it. Now those two items are back in my toiletry bag because it was so annoying, and I felt so yucky when I could not use soap. I ended up using shampoo until the hotel received their shipment.
White Noise App – When traveling, one never knows what noises will be bothersome and what may affect one's sleep. Whether it be a snoring person, a barking dog, garbage truck pickup, traffic, people talking outside your door or window, or the on and off noise from the air conditioner or heater, how pleasant it is to have consistent background noise to neutralize other obnoxious sounds when trying to fall asleep or to stay asleep.
Insulated Water Bottle – I love cold water and my 12-hour insulated water bottle. I have started packing one that has a wide enough opening to fit ice cubes in case I don't have access to a refrigerator's cold water. Staying hydrated is so important when traveling. We often forget to drink water as we are so busy exploring and visiting with one another.
I am sure you have a few items you could add to my list. If you do, please leave them in the comments section. I love learning from all of you. Happy trails!
Photo: Pixabay