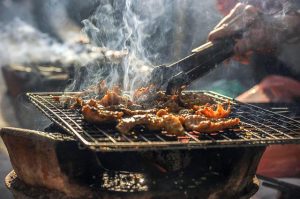 Ah, summer … when "the livin' is easy …", who does not love cooking outdoors? Will you be hosting a barbeque for a crowd this season? There are still many weekends of beautiful weather remaining to host one. If you are planning a gathering, here are some useful sites:
The Barbecue Planner can calculate how much food, condiments, utensils, ice, and other materials you'll need.
https://www.barbecueplanner.com/
Here are a couple of comprehensive checklists:
What's more, for those days when you get the sudden urge to entertain, here are some recipes you can prepare in little time on short notice so you can spend your time with family and friends:
https://www.allrecipes.com/article/last-minute-bbq-recipes-and-party-ideas/
All this brings to mind a recent backyard barbeque that I attended where the host served the most amazing smoked barbequed ribs. It was a perfect summer day and a great time to sit back and relax with great friends. I hope you will be able to do the same given the useful – and fun – tips above. Bon appetit!
Photo: Pixabay