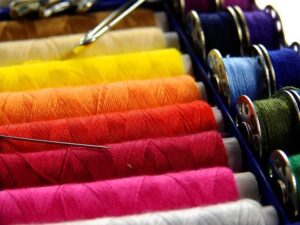 I know a number of friends who enjoy working on crafts. The lucky ones have an entire craft room. Others feel extremely fortunate to carve out even a single space for their hobbies. Here we share tips on how to organize the perfect craft closet so that you, too, can claim that one precious space for yourself and your hobby.
Tension Rod – Use these to place and corral all your ribbons. Organize them by color. Now, not only is it easy to see what you already have, but all you need to do is select the color, roll out the length you need, and make the cut.
You can also use two tension rods to help keep your wrapping/crafting paper upright and clean. Place the tension rods at a low and high height (just enough to keep shorter and taller rolls from falling forward) towards the back or side of your closet allowing just enough space to be able to take out and put back an individual roll. This trick will also work on a narrow wall in a room if you need all the closet space for your other craft items.
Clear drawers – Obviously the clear drawer is ideal so that you can see what is inside. I also like the look of arranging your crafting items to create an appealing color scheme. There are so many different sizes of clear storage drawers. Some crafters like individual drawers, such as a shoe box size, for storing paint, larger crafting tools, or a large quantity of markers/pens/pencils. The smaller sizes work well for storing buttons, gems, thread, or beads.
Dressers – I have seen people use old dressers in closets to keep their crafting items organized. If you don't have a dresser in your house to use, look on Craigslist or Facebook Marketplace for a used dresser. Make sure you have the measurements of the closet you will be using, especially the width of the door opening to ensure the dresser won't be too wide to fit inside.
Rolling Cart or Bookshelf – Either of these are good storage items to use in your closet. A bookshelf will be able to store and organize your crafting materials. The rolling cart can be equipped with all the crafting materials for a particular project you are working on. When you are done with the project for the day, simply put the excess materials away, roll the cart in the closet, and close the door. In this way, you'll be completely ready to start anew when the desire next strikes you.
Over the Door Shoe Organizer – If you have a door that allows you to hang a shoe organizer on the back, you will be amazed at what you are able to store in each pocket. I recommend the clear pockets to allow you to see inside. You will be able to store markers, small tools, stamps, stickers, and scissors.
The crafts that you like to work on will dictate the best size storage containers to use. It is not only inconvenient to have a storage container that is too small but having one too large that just wastes space is not the answer either. What do you use in your craft closet to keep it organized?
Photo: Pixabay