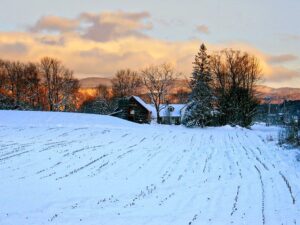 Are you craving time away but afraid to go anywhere now during the pandemic? How do you plan a winter getaway while staying safe during COVID-19? Let's explore ways to do so by planning ahead so as to keep you and the people you interact with safe as you travel.
Housing – Options vary, and so will your consideration beforehand. For instance, will you be renting a home? Staying with friends or relatives? Booking time at a hotel? If it is the latter, you may want to choose an out of the way hotel with a nationally recognized name. You should also check hotel policies on cleanliness on their website before booking dates. If you are staying with people you know, how are they keeping safe? Do your beliefs line up? With renting a home, what are their protocols for sanitizing before you arrive?
Mode of Transportation – If you drive, you have more control over what you may bring with you from your home. Flying will limit items that may make you feel safer unless you are able to purchase them upon arrival. Considering renting a car? Then investigate the company and determine how they are dealing with COVID and keeping their fleet of vehicles safe.
Items of Comfort – If driving, think about being able to bring ingredients to make light meals and using your own mugs for coffee and utensils for dining. Bring cleaning supplies to do a thorough cleaning as you desire before unpacking and living in whatever accomodations you have chosen.
Health – What are the travel requirements if crossing state lines? Do you need proof of a negative COVID test, or are you willing to quarantine upon arrival? When you go back to your home, do you need a COVID test in order to return to work or school or to reenter your state? Booking those tests ahead of time is sometimes necessary as there may not be an appointment on the day you want.
Cancellation Policy – What is the cancellation policy at your destination? If there is an outbreak at your destination or if you or a family member get sick, will you get your money back, or are you out of luck?
Activities –If you are planning on going to sites, are they even allowing visitors? You would hate to go away only to find out that you would basically be limited to your housing of choice and the great outdoors in order to stay safe. For some, that would work as they are merely looking to get away from the same four walls and to change up their days. For others, it would be a colossal disappointment.
Planning ahead will help ease the anxiety and allow you to enjoy your time away, knowing you have done all you can in advance to ensure your safety as well as that of your travel companions.
Photo: Pixabay