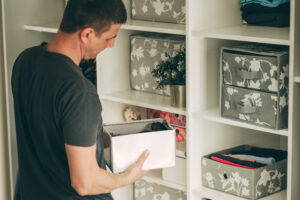 Everyone loves an immaculate, perfectly organized home. Very few people, though, have the time to actually create one. Here are five ways to create an organized home without going overboard that will fit into any schedule…
Create a common space to collect items – Do you have someone in your home who just throws their clothes on the floor? Have you tried establishing a home for the dirty clothes? Think function when selecting a laundry bin. If the person needs ease of use, don't get them a bin that has a lid on it. They won't put their dirty clothes in it. Rather, they need to be able to merely toss dirty items in. Look carefully at where clutter occurs and consider a better space or container to alleviate it.
Set routines for tasks – Creating a routine kind of becomes a no brainer in times when one is so busy. For example, get in the habit of washing your dishes after each meal. If that is too much to handle, at least do it after the last meal of the day. The bonus is a clean kitchen when you wake up and begin your day!
One in, one out – When you bring something into to a room, such as a glass of water or wine, make sure when you leave that room that you take that item out of the room, putting it where it belongs. This will help eliminate any excess clutter.
Return when done – If you get in the habit of returning any item you have taken out from its designated home, this too, will eliminate the need to clean up excess clutter. For example, when you are packaging up any returns or gifts to send in the mail, you may be using tape and scissors. When that task is completed, return them to their assigned home.
Take time each day – I am not talking about hours and hours spent organizing each day. Rather, what I mean is each day spend 5-10 minutes in a different area of your house. Start on the first floor of you home and work your way up or out. Begin in the entryway. Hanging infrequently used coats, corralling gloves and scarves into their designated home, or tidying up the in and out area will help make you and the area more organized.
Again, not everyone has the time to be constantly organizing every single minute of every day. If you set routines and spend time working on them with your housemates, you will get to the level of an organized home that will make you happy and feel less stressed.
Photo: Adobe Stock Photo