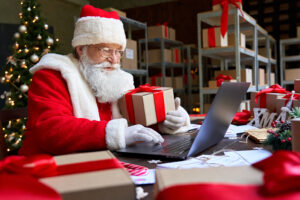 Typically, holiday gift exchanges occur in person. This year, the risk of contracting COVID-19 coupled with social gathering restrictions, and the need to stop the spread of the virus itself are making that difficult. How do you make holiday gift-giving meaningful and ensure your gifts arrive at their destinations in time? With these handy tips…
Make a list, check it twice. Make a list of everyone you have to buy for, and a few ideas of what you want to get each person.
Shop Early, And Online, For Everything. Next to each idea on your list, list a few stores that you know will have it. Then check Amazon. You can find virtually anything on Amazon, meaning you can do most of your shopping in one place, in one delivery. This time of year, it is worth it to enroll in Amazon Prime for their 2-day shipping. If you are running late with your shopping, order online, and choose curbside delivery to ensure you don't have to wait in lines in the store. If what you are purchasing is something you must see before you buy it, confirm the store you plan to buy it from has the item in stock in their store before you venture out.
Wrap It Up. Just because you're shipping your carefully chosen presents doesn't mean that they can't be festive. They should be. Use the same wrapping paper, bows, Christmas stockings, etc. you would ordinarily package your gifts in. Place everything in a large cardboard box. For a fun touch, mark that box, "Do not open until December 25" to create some additional excitement.
Embellish Gift Card Envelopes Fancy. It's perfectly okay to send gift cards. If you want to get fancy, wrap the gift card in an oversized piece of wrapping paper, or put it in a box. You can even print gift cards at home, put them in plain envelopes, and decorate the envelopes.
Make Your Shipping Box Memorable. To avoid delivery delays and to make it easy to find your box if it accidentally gets lost, write your full contact information, including your phone number, on your shipping box on both the shipping label AND on the box itself. If possible, write down the tracking number given to you by the shipping service on the box as well. Use labels, stickers, and black magic markers to cover any old shipping labels or bar codes you cannot remove from the box. This is important because, at this busiest time of year, the delivery personnel could accidentally scan the wrong bar code, sending your package somewhere else.
Ship Early. This year many more people than usual will be shipping holiday gifts. To make sure yours get there on time, plan to ship your gifts early. Make a note of when your local post office opens and arrive at opening time to avoid long lines. Alternately, you can use the post office's "Schedule a Pickup" service to have packages picked up right at your door. You can also use FedEx or UPS to ship your packages.
Unwrap Together…Virtually. Choose a single day and time for the entire family to get together online via video chat to open gifts together. You can even use the phone. Sit under your respective Christmas trees with your box of holiday gifts and take turns opening each package. Thank each other for every gift, no matter how big or how small.
Photo: Adobe Stock