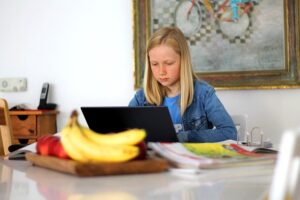 Depending on where you live, your children may be either attending school full time or with a hybrid schedule of online and in-person learning. Most homes are not set up to have multiple people working/attending school from home. Here is how to help you engage your children in their education.
Space – Having a dedicated learning space is going to be one of the most important tasks. Try not to have your children attend school from their beds. Not only does it look terrible, but it is bad for their backs and does not set them up with the right frame of mind for learning. Create a desk area with all their necessary supplies. If you have younger children, you will want them in a different room or space from yours, but close enough so you can listen passively while you work.
Online Learning – Reinforce skills such as ½ hour of independent reading. Have earphones so they can concentrate on hearing only their teacher and not all the other sounds around them. Create a barrier around them if they are easily distracted. A folding room divider or a 3-panel display board is easy to set up and fold away when no one is online.
Step Away from your Computer – Everyone working on a computer needs to take a break and stretch or look away. Follow the guidelines from the WebMD website. Make sure you are blinking often to avoid dry eyes. Bring water or your beverage of choice with you when in front of your computer for any length of time to keep yourself hydrated. Getting up to use the bathroom will force you to step away.
Getting Outside – After sitting in front of a computer monitor all day, one needs to get up and move around. What about a scavenger hunt? When the children come back in, they will have gotten some fresh air and exercise and will again be ready to work on their homework.
Learning from home may not be the ideal situation for everyone. Nevertheless, if you adjust your surroundings for your children, you will be setting them up for success this academic year!
Photo: Pixabay