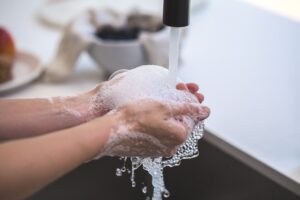 COVID-19 has changed the way people live their lives beyond the adjustment to having to work from home and homeschooling. Even the way we shop for groceries and every day essentials has changed. These changes are likely here to stay, even if the COVID-19 crisis ends. Here are things you can consider doing to adjust to life in the "new normal."
Consolidate Shopping – If you are trying to avoid multiple exposures during the week, how can you consolidate your shopping and errands? As we all know it is better to get all your errands done in one day to save you time and also gas. Now this has become even more important so that you are only out of your home once a week to do your errands. Plan what needs to be done such as grocery shopping, drug store pickup, dry cleaning, and post office mailing; then make your list and map out the best route to enable you to go to all these places in one trip.
Preparing Personal Protection – Have you stocked your car, your purse, and your home with masks, hand sanitizer and in some cases gloves? Make sure you have a supply of each of these items available for ready use. I personally have a pile of masks near my door, so I remember to grab one and put it on before leaving the house. I also have a few in my car in case I forget to grab and wear one on the way out of my house
Utilizing Delivery Services – If you are more comfortable staying in your home, have you considered using delivery services? Most grocery and drug stores are offering both curbside pickup and delivery services. This is one way to limit your exposure. The downside to this, though, is that you may not be able to pick out the type of fresh vegetables you want, such as being able to select green bananas over yellow ones as you may have done when you are in front of the bananas. As long as you can accept this, it really is a great alternative to shopping in person. Restaurants are also offering the same options, so consider this if you crave your favorite meal. Patronizing restaurants – if your budget allows – is helping to keep these establishments in business.
Remaining Safe – It is without question that the top priority is to stay safe at all times. Wearing a mask whether it is mandated or not will not only keep you safe but also keep others around you safe. Washing your hands often with soap and water, and when that isn't possible, use hand sanitizer with at least 70% isopropyl alcohol. Wiping down frequently touched doorknobs and other surfaces with disinfectant will be another way to limit exposure. Of course, socially distancing whenever out as well as limiting the number of people you are in contact with has proven to keep us safe. It is your comfort level that will dictate how you act, but do listen to the CDC and follow their guidelines.
We are all human, and there is a lot on our mind these days… therefore, give yourself a break as you adjust to this new normal. We are learning as we go along and training ourselves to be as careful as we can. Stay safe and as healthy as you are able.
Photo: Pexels.com