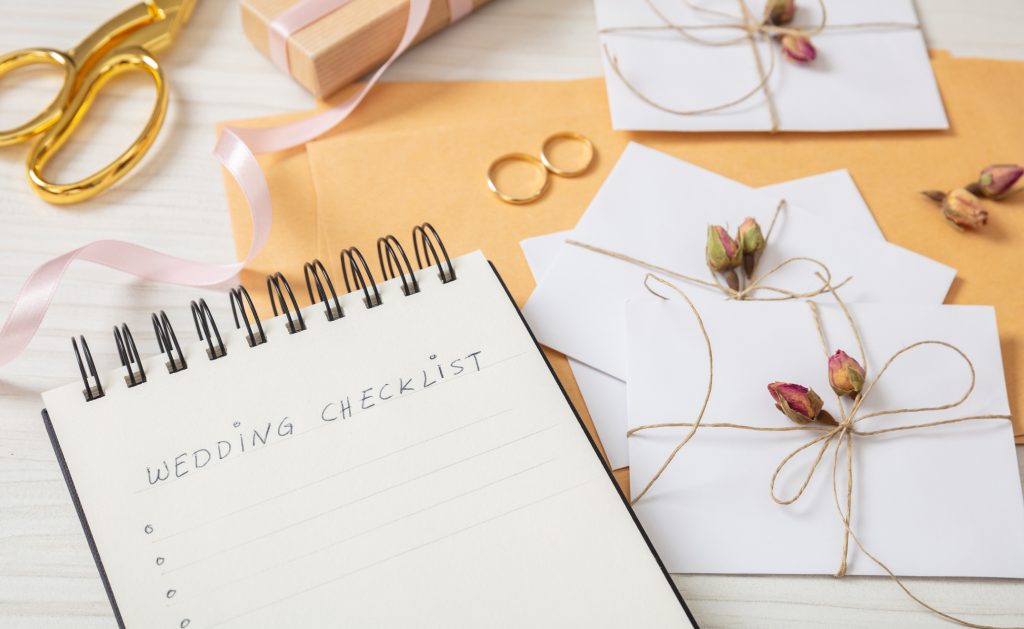 You've just gotten engaged. Now the fun part begins! Planning your big day. By this time next year, you and your fiancé will either be exhausted or ready to elope to Vegas. Here's how to organize yourself for a fantastic wedding from that first "Yes" to ensure your day is all you – not your mother, grandmother, mother-in-law, the man on the moon – want it to be.
Get The Legal Stuff Out of the Way – Getting married is more than a big party. Decide what kind of wedding you want, and what will legally be required. Do you need a blood test? Do you have to apply for a marriage license? Is there a waiting period? If you're having a civil ceremony, do you need to make an appointment? Figuring out all the legal aspects of getting married before you start planning the ceremony will help you set a realistic budget.
Having a Religious Ceremony? Check In With Your Place of Worship – If you are getting married in a place of worship, or having your marriage witnessed by a member of a particular religion's clergy, check with your local place of worship to determine what their requirements are. For example, the Roman Catholic Church requires couples getting married by a priest to attend Pre Cana classes. The Catholic Church also requires anyone previously married to have a formal annulment before they can get married again. Knowing what the requirements of your religion are in advance will save you time and stress later.
Set Dates – Choose a date for your wedding, and work backward to determine when you will have to apply for a marriage license, how far in advance you have to complete any required religious pre-wedding requirements, how far in advance vendors such as a DJ, reception hall, florist, etc. have to be booked, and when the final deposit on all of these things are due. Put these dates into an electronic calendar with a reminder of at least 2 days before each. That way you won't forget, and you won't be caught financially unprepared when payments are due.
Set a Budget – Just like any other event, set a budget for the entire event, as if you were paying for it yourself. This saves the uncomfortable conversation with parents about what they are willing to pay for. If anyone volunteers to pay for a specific item: flowers, DJ, reception, dress, etc., treat that money as "found". Once the item is booked, put the money you would have spent towards something extra you wanted but couldn't afford, or your honeymoon.
Decide Where The Money Is Going – Once you've established your overall budget, decide what is most important to you in order of most importance to least importance. Do you want a killer dress, or a killer DJ? Is the wedding cake a priority, or having an open bar? Write down what is most important to you, research the average amount that item costs, and put that amount down next to the item, adjusting up or down to meet your overall budget.
Set Up a Spreadsheet – Excel is a great way to track different aspects of your wedding. You can even include images, and links to files on individual worksheets. Set up different tabs in your master spreadsheet for the budget, venue ideas, list of bridal shower gifts and wedding gifts for sending thank you's, timeline or checklist, play list, specific photos you want taken, honeymoon, guest list, and anything else that will keep you sane in planning your wedding. Having it all written down rather than just in your head will help you sleep at night and you can share it with others that are involved in your special day.
Create an Electronic or Old School Hard Copy Folder – Creating a central location for final contracts, tear sheets for any ideas you think you may want to incorporate in your wedding, bridal dresses you like, flower ideas, party favors, bridesmaid/groomsmen gift ideas and clothes, honeymoon ideas, and basically any idea or final plans that will keep you organized and provide a go to 'bible' for reference. Using Google Docs, Evernote, or iCloud will allow you easy access no matter where you are rather than dragging around a paper binder/folder.
Get a Custom Website and Email Addy – Let's face it, most communication is done through email. If you create a special email address for just your wedding, it will eliminate important email ending up in either your work or personal email and perhaps getting overlooked. To stay really organized, create folders for each category for your wedding so your inbox isn't so overwhelming.
When you decide to get married, you've already done the most important part of planning a wedding: you've made a commitment to spend the rest of your life with your best friend. The actual wedding is just a celebration of that commitment. These tips will make your wedding planning less stressful and more enjoyable so you can have the day you envision.
Photo Licensed from Adobe Stock