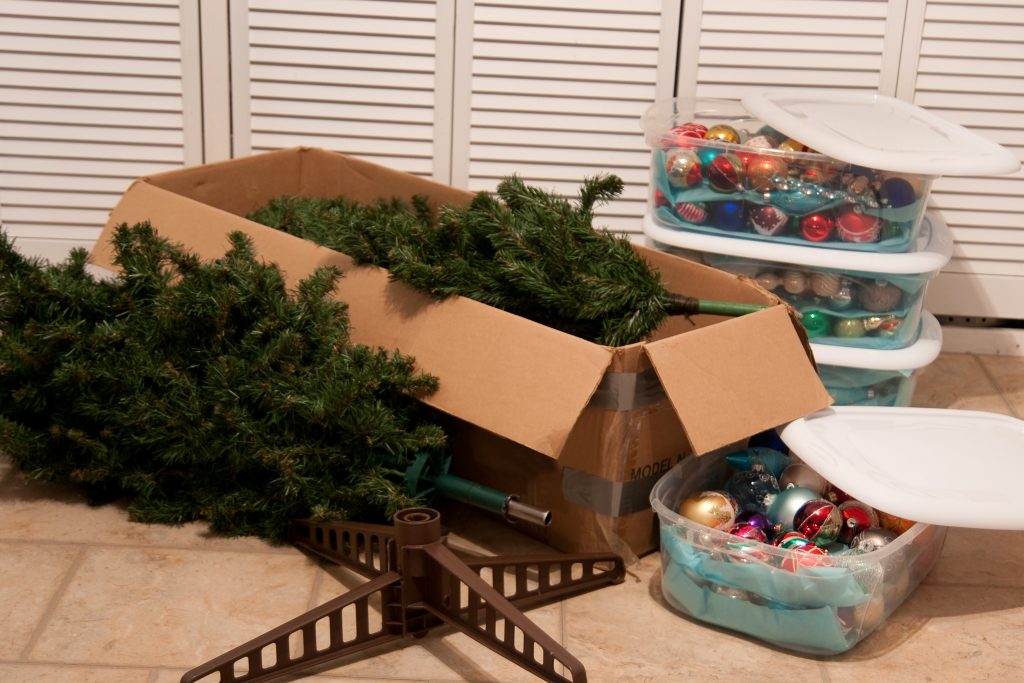 The holidays are over, but the cleanup has just begun. Here's how to quickly organize your holiday décor and store it for easy access next year.
Capture It– If you like the way you decorated your home this year, take a smartphone photo of each area of your home you decorated, inside and out, and save them in a file called "Holiday Photos" on your computer. You can add other holiday photos to this folder as well. You can pull these photos up next year and know exactly how to decorate your house for the new holiday season. 
Protect It –If you decorate a tree, you have ornaments that need to be stored. The easiest way to put away ornaments is to have a storage container that has dividers for the ornaments. This way you don't have to individually wrap each ornament. All of the big box stores put these boxes on sale the week after New Years. For smaller ornaments, wrap each one individually in newspaper or used wrapping paper and store them two to a compartment. This will prevent scratching or breaking. 
Wrap It Up –Locate a sturdy piece of cardboard, cut it to 12" wide by 18" long, and wrap your holiday lights around the 18" section. Place all of your lights in a separate holiday container. An Amazon shipping box works or empty liquor box works great for this purpose. Next year you won't have to untangle the lights when you put them out. You can also use this trick for garlands.
Box It –Place holiday figurines, candle holders, village houses, and other collectibles in boxes appropriate for their size and shape. If you have the original boxes for these items, use those.  If not, here is a great way to reuse all of those empty boxes that seem to be generated during the holidays, including clothes boxes, kitchen appliances boxes, shoeboxes, and even jewelry boxes. Be sure to wrap everything in a protective cover before putting it into the box first. 
Sort It All Out– There are 2 different ways to store room décor. The first is to put like items with like items. All your Santa's would get gathered and put into a storage bin. The second way to store room décor is by the room they were in (if you want to easily repeat how you decorated your home). Each storage bin is labeled by room and you can list the items in the bin for easy retrieval. 
Label Everything! –Label your storage boxes with a black sharpie magic marker in big letters. Note the contents and the room it goes into. Put this information on the storage container lid and at least 1 side of the box so you can easily find identify the contents if the box is stacked in storage. I like to use 2 labels. One for the short side and the other for the long side of the container.
Make a List –As you are putting away your holiday decorations, make a list of what you need for next year. Was your tree short of hanging ornaments? Did the lightbulbs burn out on your electric or battery-operated candles? Better to know now what you will need next year so you are sure to buy them early in the season before the pickings are scarce.
Wreaths –If your wreaths aren't too oversized, you may find it easier to store them in round containers designed specifically for wreaths. If you can't find them this time of year, put that on your list for next year before they are sold out.
Putting the holiday decorations away isn't nearly as fun as getting ready for the holiday, but, if you do it in an organized fashion, it shouldn't be so awful. You can always hire a professional organizer to help you if you are so inclined.
Photo Purchased from Adobe Stock