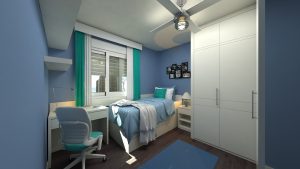 By the time most children turn 13, they have a combination of beloved childhood items and new video games, electronics, and games – not to mention clothes they've outgrown – taking up space in their rooms. Here's how to decide what to throw away and transitioning your pre-teen's room to an organized teencave.
Take it One Step at a Time. Decide which part of your teen's room you're going to tackle first. Are you going to take on that dresser full of clothes they've outgrown, or the childhood toys they haven't touched in years? Is your teenager's desk big enough to accommodate middle school and high school homework? Formulate a game plan with your teenager on how you will prepare for the years ahead.
Create a Homework Space. All junior and senior high school students need a place to do their homework. This space should include a desk big enough to accommodate a computer or laptop, a monitor, notebooks and printed handouts from teachers. It should also have drawers or storage for the "school supplies" they will need to do their homework. There should also be a place – be it the desk itself or a smaller stand – for a printer.
Shelve It. Wall shelves come in a wide array of sizes, styles and configurations and can be used to hold everything from books and video game cases to childhood toys your teen can't bear to part with.  Decide what you will put on shelves and where the shelves will go in your teen's room. After you hit Home Depot, hand your teenager an electric screwdriver and assist them in putting up the shelves. Not only will you have a more organized teencave, but you will also foster your teen's independence.
Make That Old Bookshelf Multitask. Classic bookshelf units can be used to hold books or fabric storage bins that can hold the unsortable trinkets that teens always seem to pick up. A bookshelf placed at the foot of a bed, in combination with storage bins, can serve as a video game center. Place the TV on top of the bookcase, the different video game consoles on the shelves, and the extra controllers and accessories in storage bins on the bottom shelf.
Sit Them Up. Most teens can be found either on their computers or on their beds. Invest in a solid, comfortable desk chair and a firm foam reading pillow for their bed. Both will encourage good posture.
Have a Game Plan for Outgrown Clothes. Adolescence is a time of growth spurts. Teenagers generally need a new set of clothes every 6 months. Have a bin set up for outgrown, unwanted clothes to make it easy on your teen and you. Decide what you want to do with that clothing. Do you have younger children to save the clothes for? Can you consign or give away the clothes to a charity or another family?
Let Go of (Some) Childhood Toys. Have your teen decide which of their childhood toys and memorabilia they want to keep in their room, what they want to save, and what can be donated or recycled. If they don't want an item, don't force them to save it just because YOU have memories of it. If you have the opposite problem of your teen wanting to keep it all, set limits of a quantity or a space.
Don't Forget the Closet. Store seasonal items such as winter jackets and swimsuits, in your teenager's closet. Airtight storage bins can be used to store childhood items your teen isn't ready to part with. Upper closet shelves are perfect for board games that only come out periodically.
Once you've done all this, encourage your teenager to keep their new teencave clean. Give them the weekly chore of cleaning their room and putting away their laundry. Encouraging your teen to organize and keep their room clean will foster their independence. Bonus: you'll cringe less when you open that perennially closed door.
Photo: Luis Rainero