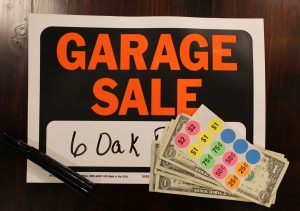 Holding a garage sale is a fun, profitable, eco-friendly way to clear clutter from your home. The saying is true "one person's trash is another's treasure". Virtually anything can be sold at a garage sale. Old glassware? Check. Fabric scraps? Check. Old kids toys? Check. Discarded electronics? Absolutely! Just throwing items out on a folding table and putting a sign on your lawn won't make your sale successful. Here are some tips for maximizing your time and creating a fabulous, fun garage sale.
Pick a date. Research the best time in your town to have a garage sale. You can also check your town website to see if a Town-Wide Garage Sale is planned. If so, sign up for it. If not, pick a date and put it on your calendar. Setting a deadline in advance means you won't procrastinate getting ready for your sale!
Start gathering. A garage sale is a perfect excuse to go through your home room by room and pull out items you no longer love and use. Check your attic for old electronics, baby clothes, and toys gathering dust. Place them in a central location in your house.
Sort and Clean. Sort each item by category into its own container for storage and easy transport to the area where you'll set up your sale. As you sort each item, wipe it down, inside and out. Buyers will be attracted to clean items and you'll get a better price for them.
Price it Out. You'll sell more items if they are priced in advance. Set a realistic starting price for each item but leave some wiggle room for bargaining. If you're not sure how to price out your items, check out The Ultimate Garage Sale Pricing Guide on Angie's List. Use neon colored price tags to make the prices easy to find. Several hardware and stationary supply stores sell pre-printed, adhesive price tags specifically for garage sales. These are a great investment. Use a black Sharpie to write custom prices.
Organize – Don't you enjoy going into stores that have defined categories? It is so much easier to shop. Have sections for clothing, electronics, housewares, travel; whatever you can group together will make a nicer experience for your shopper and you want them to stay and look around. If you have several of the same item, create a sign with the price of each item on card stock.
Advertise – Put your yard sale on Craigslist, Nextdoor, and any town related news sites. List a few teaser items and definite hours. If you don't want early birds, state that! You can also specify cash only and items need to be carried away that day. If you can't assist hauling stuff to people's cars, say so.
Have Cash on Hand. I recommend having at least 2 rolls of quarters, a handful of $5 bills and at least $20 in singles ready before your first customer arrives. If you expect any items to sell for pennies, nickels, dimes, or quarters, make sure you have that to give change back. Use a cash box or large, zippered pouch to keep your money in. Those cosmetic cases that come with beauty bonus buys work great for this purpose.
Bag It. Have extra bags, plastic boxes, and newspaper on hand for customers who request a bag to carry their item in, purchase multiple items, or purchase fragile items. You can store up plastic grocery bags and reuse them for this purpose.
Hydrate and Screen. You're going to be standing or sitting in the sun for the majority of the day. Avoid dehydration and sunburn by keeping plenty of bottled water and sunscreen on hand. Reapply sunscreen throughout the day.
See You Next Year! Have a plan for what you will do with your unsold items at the end of your garage sale. On my last sale, I created 3 separate groupings: Toss, Sell Online, and Save for Next Year. Anything I was going to sell online (VCR from 2000 anyone?) I put a neon sticker on. Everything I plan to sell next year went into boxes labeled "Save for Next Year". I photographed the stuff I planned to sell online and posted it. The "Save For Next Year" boxes went into my attic.
Above All, BE SAFE! Do not let shoppers into your home no matter what the emergency. If they are truly in distress, call 9-1-1 immediately. Otherwise, direct them to a nearby public facility.
Happy Selling!
Photo By: Cristina M. Miller