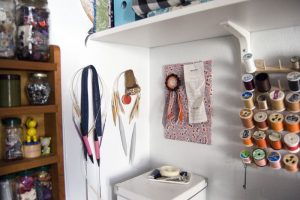 If you're like any hobbyist – sewer, woodworker, scrap booker, etc. – you've accumulated materials for projects that have never been done and scraps from projects that have. These tips will help you decide what to keep and what to toss from that craft closet and simplify your hobbies.
Evaluate – If you have many hobbies, are you really working on all of them? Can you pare down to just a few and focus on them? Are you engaging in them regularly to justify all the stuff that goes along with each hobby? It's not a bad thing if decide you enjoy a different hobby. Letting go of the items for the less interesting hobby opens up space for the hobbies you enjoy more.
Make Space – Choose a place where you will work on your hobby. This can be a dedicated area, such as a sewing room or basement workshop, or a double use space, such as a dining room for scrapbooking or a home office for digital photography. Ensure the space you choose is big enough to support your hobby and has the proper furniture for it. Can you spread a queen-sized quilt across that dining room table? Is there a bench in that basement workshop to properly trim the lumber for that bookcase? A friend of mine uses her living room sofa table as a sewing desk. It allows her to be close to her kids while she is working. A popular place for scrapbooking is a dining room table.
Storage – Containers are your best friend for hobbies. They not only keep your stuff all together, they act as limiters to how much your need to be storing. You don't have to spend a lot of money on expensive, hobby-specific storage devices for this. Check out this articleon how to reuse everyday household containers for craft supplies.
Easy Access – If you can't grab the stuff you need when you need it, why bother? You need to find a dedicated area to store your hobby items. Find a dedicated area to store your hobby items sorted by hobby. This Neatfreak! closet organizerworks great for storing hobby materials in a closet and requires no assembly. Whether you turn a guest room closet into the storage area or a dedicated corner or shelving unit, pick a location that will enable you to have ALL items associated with that hobby in one spot. If possible, it should be the place where you will work on that hobby.
Sort and Label – Most of us only have a few hours a week to spend on our hobbies. Make the most of that time by placing all of the materials you need for each specific project you are working on in its own container and label that container. These 12×12 containersare great for scrapbooking. The zippered plastic bags retailers sell sheet sets in are excellent for sewing projects. By sorting and labeling your hobby projects, you'll be able to instantly grab what you need when you need it.
Photo: Alison Headley