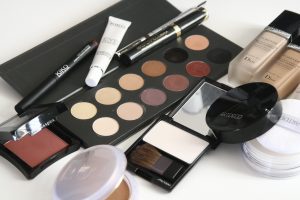 We all love the thrill of getting free stuff, and in the world of retail beauty products, free samples are abundant.  All of the major department store brands: Clinique, Estee Lauder, and Lancôme off regular "bonuses" that include a cosmetic case filled with new products. Sephora provides three free samples with every online order. There are also those enticing, low-priced trial sizes perched near the checkout counter of every beauty department or beauty store.  All those beauty bonuses and trial sizes can become clutter if we aren't careful. Let's talk specifically about the free samples that come with certain beauty products. How can we declutter our beauty sample stash?
Just Say No– The easiest way to keep the excess out of our lives is to not bring it in our homes in the first place. If you are offered any free samples, say no to the items you know you won't use. For example, I don't wear perfume. So many of my clients have various sensitivities so I avoid perfume. Therefore, if I am offered a perfume sample, I say no thank you. I say the same when I am purchasing a product during "Bonus Days".
Try it– How many times do we bring beauty samples home and they just sit on our bathroom vanity? If you are unsure of a color and how it will work with your skin tone or type, try it. You can do this by visiting the retailer who sells it and asking them for a complimentary sample. Most of these samples will be smaller than a typical trial size, in a recyclable container. Instead of hanging onto it, you can easily throw it away.
Commit to Use– Have a plan for when you will try each new sample you pick up, and how long you will try it before making a decision to purchase the full-size version. Stick to this plan. Even if you do decide you like a sample, unless it works noticeably better than the product you're replacing, use up the old product first before you purchase the new one.
Share–If you decide you don't like an unopened sample and don't intend to use it, offer it to friends, family, or a local women's or homeless shelter or food pantry that accepts these items.
Regroup– Sort your samples into groups according to occasion. I have three: Special Occasion, Every Day, and Weekend. Samples of full-coverage foundations, long-wearing primers, and eye liners go into my "Special Occasion" group. I so rarely wear these products that I don't need more than a sample size on hand. My "Every Day" collection includes new BB Creams, blushes, and skin treatments to try for work days. My "Weekend" stash has tinted moisturizers and multi-purpose highlighters I can toss on quickly when I want some coverage, don't need a full "face". Use up the samples in each group before accepting more or buying more trial sizes.
Using these tips will make not only your beauty sample stash, but your entire beauty regime more organized.
Photo: www.pixabay.com; Approved for Reuse.