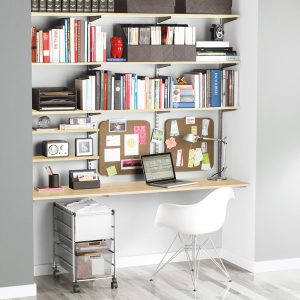 Before I officially start this post, I want to state that I am in no way judgmental when I enter a client's home. I do not put on my organizers glasses unless you are paying for my services. That said, if you are a client, there are a few areas that I first notice when I walk in a home and as we tour your home for the first time that you may or may not point out to me.
Front Entry – This tends to be the drop point for many items. Are there a lot of coats and shoes in the entryway? It could mean that the home has no front hall coat closet, or there is no mudroom. It could also mean that there are just too many items stored in the entry for each person, and we may want to find additional solutions for the collection.
Kitchen Counters – Are the counters clear? Or is there too much stored on the counter? This may indicate a storage issue or someone that is a very visual person. There are things we can do to work on this!
Random Piles – Perhaps there is a stack of bills on the kitchen counter. Or cosmetics on the dresser. Sometimes this indicates that the person likes to do an activity in an area that isn't supported with a storage solution for this activity, so the items just land in a pile. This can lead to clutter, and there are great storage solutions for this, if one doesn't want to change their habits.
Desk Clutter – I've written extensively about clearing off desk clutter. The thought is this: physical clutter can lead to mental clutter! If you are a visual person, and need papers on your desk to remind you of tasks, this is fine, but it's important to systemize this to ensure items don't start piling up.
Clothes in the bedroom – Usually if there are a lot of clothes on the floor, and they are clean, the person either has too many clothes for their existing situation, or they are visual and can't have them in drawers. If the clothes are dirty, I ask if there is a laundry hamper in the room. Often times there is but it has a cover on it and the person doesn't want to take the time to lift the cover to put the dirty clothes IN the hamper. Again, there are easy solutions for helping every personality type stay organized!
Those are a few of my observations of what I notice when I first walk in a home and when I am touring the spaces with a first-time client. What is the first thing you notice when you walk into someone's home?
Photo: Container Store