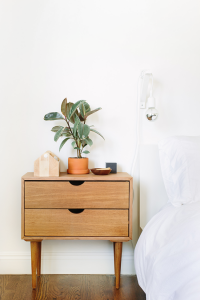 Tis the season for hosting! If your home will serve as holiday headquarters for some friends and family, it's time to get your guest bedroom ready.
Aside from the standard clean sheets and towels, what else do your guests actually need? Here are some must-haves for the guest bedroom that will make your guests feel right at home.
Luggage Rack – Many guest bedrooms do not have a space for guests to plop down their suitcases. A luggage rack is a great item to have, and they easily fold up when not in use.
Clean, Flat Surface – You know the feeling when you check into a hotel and you have access to a clutter-free desk or dresser top to put down your personal items? Recreate that in your guest room. Make sure there is at least one clear surface to allow your guests to put whatever items they want out to allow them easy access.
Hanging Space – Not all guests will have items they need to hang, but you should have hangers ready and a section of the closet available. If you don't want to share your closet, you can purchase a fold-up hanging rod.
Drawers – When I travel, I totally unpack to make it easy to find what I need. Empty drawers are a necessity for me. If you have a dresser, try to keep at least one or two of the top drawers empty for guests. If you are tight on space, clear out the nightstand drawers for guests to use.
Bathroom Caddy – Not every house has a dedicated bathroom for guests to use. Often, guests need to share the bathroom with the homeowners. If this were the case, wouldn't it be nice to have a portable bathroom caddy for your guests? With a bathroom caddy, they can put their bathroom items in the caddy and carry it back and forth as needed.
Mirror – Make sure your guest room has a mirror. Your guest can use it to put their makeup on or do their hair, which comes in handy if the bathroom is a shared space.
Another guest room essential I saw recently – and loved! A small frame featuring the WIFI network and password. When is the last time you stayed at someone's house? What items did you wish you had available?
Photo: Almost Makes Perfect