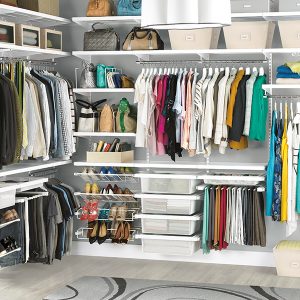 The closet, whether a huge walk-in or a tiny apartment closet, can be the holder of everything. And I mean EVERYTHING. It's the go-to place when folks are looking to hide an item that they can't get rid of, but they don't want showcased in the home. Cleaning out the closet is not the most exciting task in the world; however, the benefits outweigh the burden of doing this.
I recently moved and settled into my new home. The move was a rush due to circumstances out of my control. My bedroom closet was never fully settled and I really avoided using it. The closet just felt like a dumping ground and there was no order to the space. I finally took the time this past month to reclaim the closet and make it my own. Now, I'm happy when I enter the closet! Below are tips to make the process easier to tackle.
Break Down the Process – Break the project into chunks of time. We all lead busy lives, and it may be hard to devote an entire day or weekend to the task. Plus, this project takes time, and you want to dedicate enough time to do it completely.
Think about Your Clothes – Take out your hanging clothes. Yes, it can be a messy task but it's best to take all of them out. (If you have way too many hanging clothes, try to do it by categories like all of your pants or tops.) Then, evaluate what you currently own.
Try on Your Clothes – Again, not the most exciting task, but it's time to be honest with yourself. We all have clothes hanging in our closet that, for whatever reason, we can't purge. Whether the piece of clothing holds a memory, or you desire to fit into that item one day, all it is doing is taking up precious space in your closet and your mind. Time to let it go!
Say Goodbye to Tattered Items – Now is the time to let go of the items that are torn, stained, or just not flattering.
Organize Your Clothes – After you tackle these first four steps, you're ready for your remaining items to reenter the closet. You may want to put your clothes back by category, or take it a step further and organize by color. Choose whatever organizational method makes you happy or helps you more easily get dressed.
Shoo the Shoes – These can take up a lot of space. Do they fit and are they comfortable to wear? Get rid of old scuffed up shoes and shoes you haven't worn in a few seasons.
Purge the Purses – Purses can hold sentimental value. I wore this clutch to my best friend's wedding. My husband got this for me for my wedding anniversary. Evaluate which ones you use and like. Donate the others.
Sort Through Everything else – What other categories of items are in your bedroom closet? If you store your jewelry or hats in your closet, do the same thing by looking at each item and making a decision. If you have random items or misfits that don't belong in your closet, create a pile and find its proper home, or simply let it go.
Trust me, when it is all done, you will be elated and your bonus will be time saved each time you need to get ready to leave your house. What item did you find in your closet that you simply forgot about? Share in the comments!
Images: The Container Store