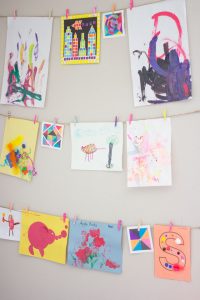 I know, I know. You blink, and all of a sudden school is out for the summer. The saying is true, "The days are long, but the years are so short."
Yes, the years are certainly short, but you know what is shorter? The amount of time left you have to prep for summer! It's time to start organizing the mounds of items from the past school year. What do you do with all your children's school papers and art projects? What should you get rid of at the end of the school year?
I know most parents, especially the moms, agonize over this decision. Perhaps they are traumatized from their own childhood where their mom threw out all their papers, or worse, their mom kept every single piece of paper that was created. Like anything in life, you need to strike a balance. Below are three tips to consider as you're organizing your child's school items.
Keep Only What's Creative – There has to be a happy medium, right? In working with moms during this time of year, the best advise I can offer is IF you have to keep any of your child's work, make sure it is creative. Don't keep the math worksheets or spelling words, as that doesn't show their individualism or creativity.
Go Through Items with Your Child – The best plan is to go through the papers with your child and see what they want to keep. If you think this is an overwhelming task for them, edit the pile before sitting down with them. Have a number in mind for how many you want to keep and make sure it doesn't exceed a small storage container.
Purge as You Go – Instead of waiting until you gather a year's worth of school projects, take the time each month to purge as you go. By doing this, you are not left with this daunting task at a time when everyone wants to put the school year behind him or her and enjoy summer.
Sentimental items like kids' artwork is always more difficult to purge. Remember, it can feel good to get rid of that lingering pile of paper, but make sure to save a few mementos from each year. It is always nice to look through their work and see the development over the years. After all, the years are so short.
Photo: Design Improvised